Choc-Peanut Caramel Tart
Prep: 30 mins
Cook: 45 mins
Servings: 8-10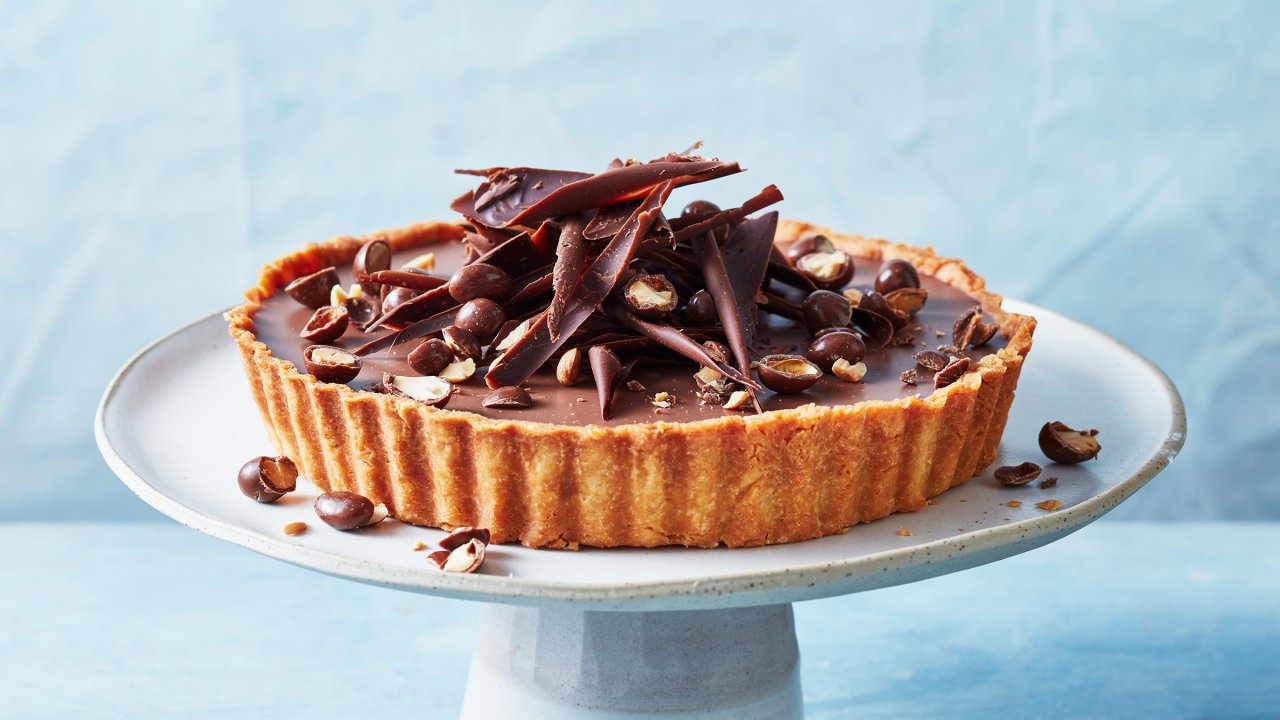 Chocolate, peanut and caramel. Three distinct flavours. One divine dessert!
The White Wings Crafted By You range allows you to add that extra bit of flair to your baking!
Ingredients
Choc Tart:
2 packets White Wings Choc Ganache Tart Mix 
2 egg yolks 
80g unsalted cold butter 
170ml thickened cream 
Peanut Caramel Filling:
110g (½ cup) CSR Caster Sugar 
40g unsalted butter 
60ml (¼ cup) thickened cream 
100g (½ cup) smooth peanut butter 
Topping:
Chocolate covered peanuts, chopped 
Dark chocolate curls, to serve
Method
Prepare both packets of the tart base as directed. Chill dough for 1 hour to rest. 
Roll dough out between two sheets baking paper to 28cm round (about 3mm thick). Chill dough for 30 mins to rest. Line a 20cm x 3.5cm tart/flan tin with the pastry. Trim excess pastry, dock the base with a fork and place in the fridge for 30 mins to rest.
Preheat oven to 170°C, fan forced. Line pastry with foil and fill with rice or pastry weights. Bake for 20 mins. Remove the foil and weights. Reduce heat to 150°C and bake for 10-15 mins until pastry is dry and golden. Set aside to cool.
For the peanut caramel filling, place sugar in a medium saucepan over medium-high heat. Cook, stirring occasionally, for 3-4 mins until sugar has caramelised.
Remove from the heat, add the butter and swirl to combine. Add the cream and stir to combine. Set aside for 5 mins to cool slightly then stir in the peanut butter. Pour peanut caramel into tart shell, smooth the top and place in the fridge for 2 hours to set.
Prepare the chocolate ganache as directed. Pour over peanut caramel layer, smooth the top and lightly tap to remove any air bubbles. Place in the fridge for 4 hours or preferably overnight to set.
To serve, use a hot, dry knife to cut the tart into slices and top with chocolate covered peanuts and chocolate curls.