Double Choc Cookie Sandwiches
Prep: 20 mins
Cook: 20 mins
Servings: 12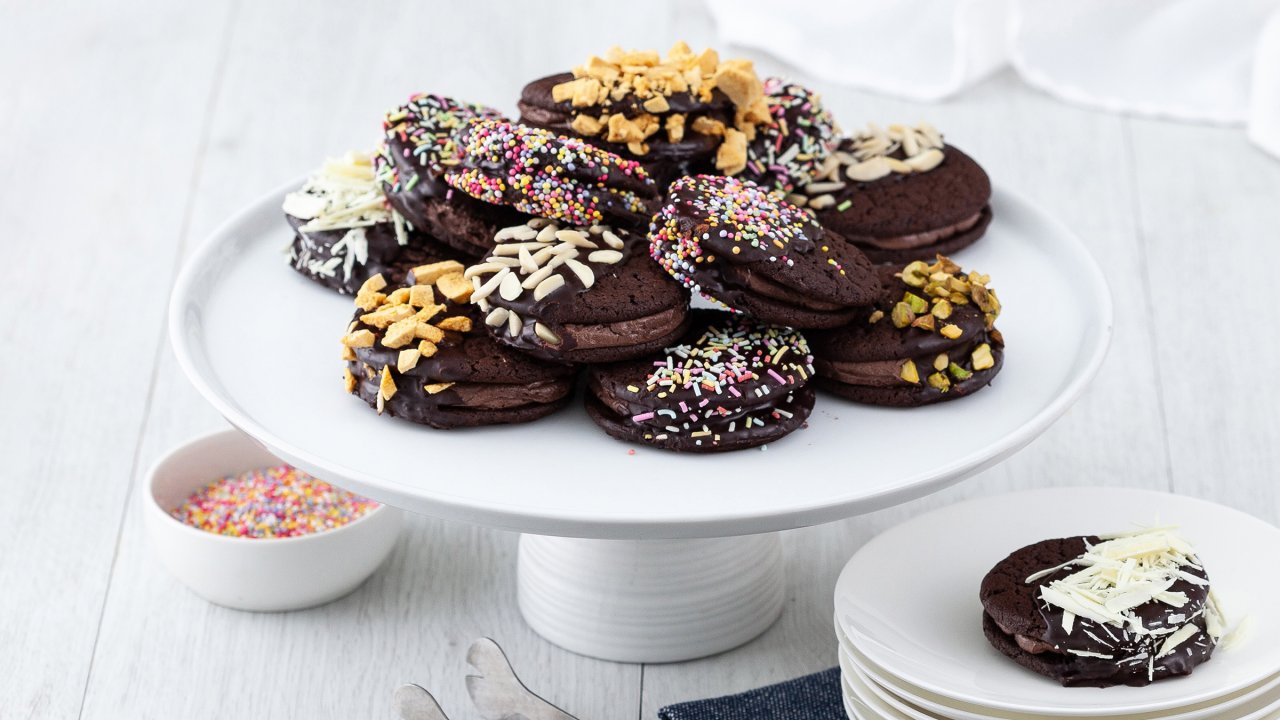 Prepared and cooked in under an hour, White Wings Double Choc Cookie Sandwich mix makes it super simple to bake your own deliciously rich cookies. 
Dip in chocolate and finish with your choice of topping!
Ingredients
Cookies:
1 x White Wings Double Choc Cookie Sandwich 
80g butter, melted 
1 egg
Filling:
Filling mix from 1 x White Wings Double Choc Cookie Sandwich 
65g butter, softened 
2 tsp milk
Chocolate Dipping Sauce:
2 tbsp cocoa powder 
1 cup CSR Soft Icing Mixture 
¼ tsp salt 2 tbsp butter, melted 
2 tbsp boiling water 
 ½ tsp vanilla essence
Toppings:
 ¼ cup chopped almonds, toasted 
 ¼ cup pistachio nuts, chopped and toasted
 ¼ cup rainbow sprinkles
¼ cup 100s and 1000s
 ¼ cup honeycomb
¼ cup white chocolate flakes  
Method
Prepare cookie mixture as directed and bake 24 even sized cookies. While the cookies cool, prepare the filling mixture. Once cooled, top an equal amount of filling onto 12 of the cookies, placing remaining 12 cookies on top to create cookie sandwich. 
Prepare the dipping sauce by combining all the dry ingredients in one bowl and the liquids in another. Gently pour the liquids into the dry ingredients, whisk until smooth.
To decorate, dip half the cookie sandwich into the warm chocolate sauce and then quickly press into your choice of toppings. Arrange on a paper lined tray and refrigerate to set.