Milk Choc Ganache Tarts with Candy Cane Meringues, Raspberries and Mint
Prep: 1 hour, plus chilling and cooling
Cook: 2 hour 20 mins
Servings: 12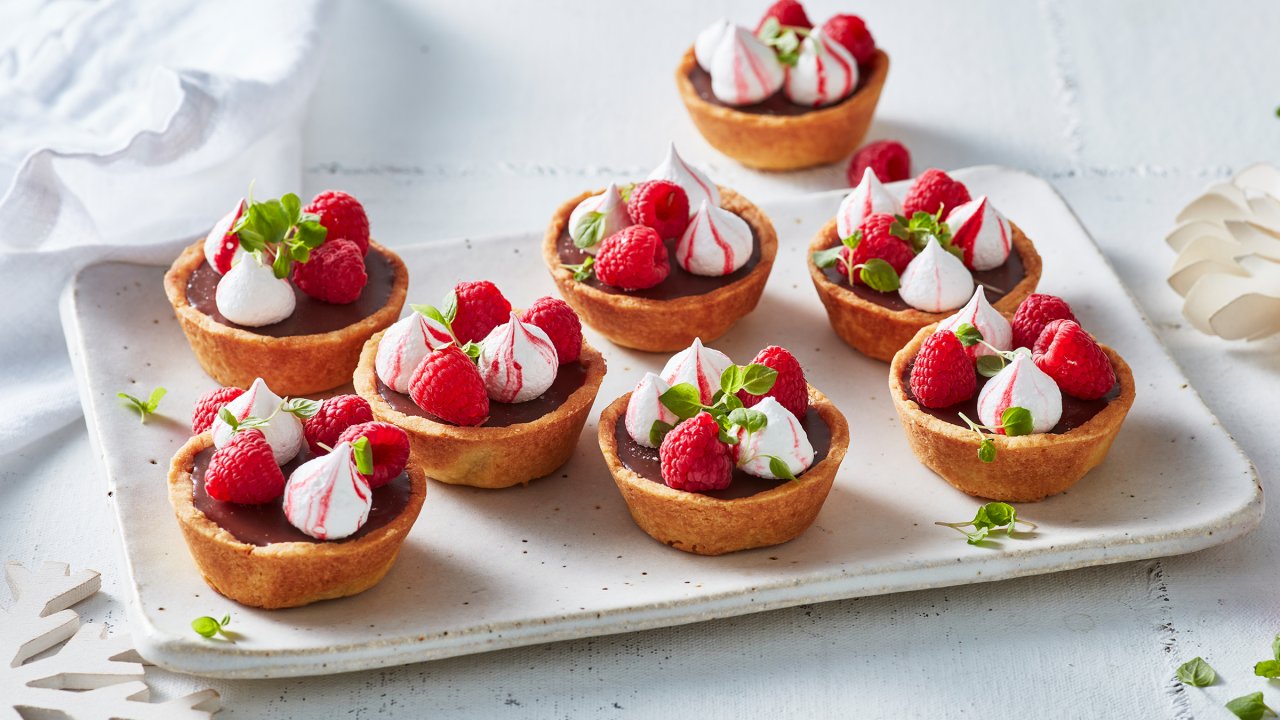 A slightly different Christmas dessert, milk choc ganache tarts with candy cane meringues topped with raspberries and mint are sure to be a winner at any event.
Ingredients
2 packets White Wings Milk Choc Ganache Tart 
2 egg yolks 
80g unsalted cold butter, cubed 
170ml thickened cream 
1 x White Wings Pav Magic Egg 125g 
⅛ tsp – ¼ tsp peppermint essence 
Red gel food colouring 
125g (1 punnet) raspberries 
Baby mint leaves, to serve 
Method
Prepare and bake White Wings Milk Choc Ganache Tarts as directed. 
Preheat oven to 100°C Convention/ 80°C fan-forced. Line a large oven tray with baking paper. 
Prepare White Wings Pav Magic mix as directed. Add peppermint essence to taste. 
Run a skewer dipped in food colouring down the sides of a large piping bag fitted with a 1cm plain nozzle to form six stripes.
Spoon one-quarter of the meringue mixture into the piping bag. Discard the remaining. Pipe mixture to form mini meringues, about 2cm in diameter, 3cm apart. Bake for 1 ½ hours to 2 hours until dry to the touch. Turn off oven and cool completely in the oven with door closed. 
Top tarts with meringues, raspberries and mint to serve. 
Note:
This recipe requires only ¼ batch Pav Magic Egg. Excess meringue can be used to make extra mini meringues or even a larger style pavlova if desired. Freeze for up to one month in airtight containers layered with baking paper.