Alisha Henderson Bake The Most Of It Pie
Prep: -
Cook: 50 mins
Servings: 12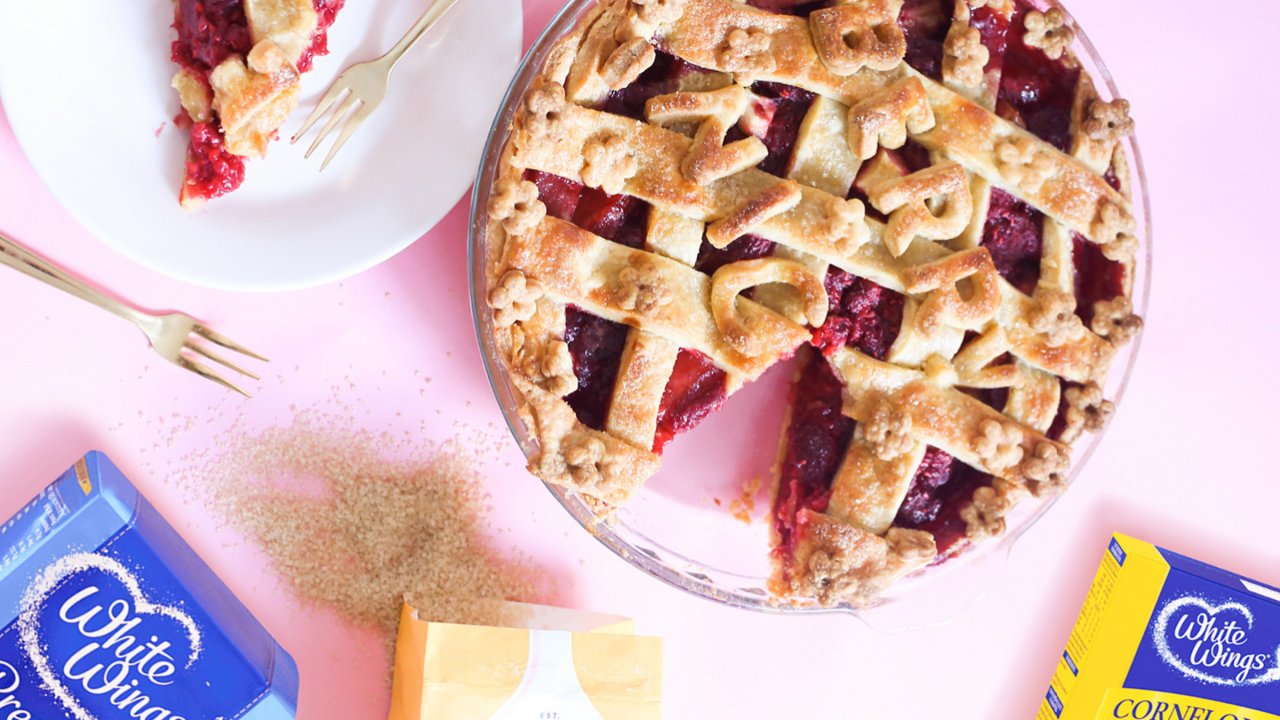 Bake The Most of it Pie by Alisha Henderson can be filled with any fruit you like.
Top a slice with a dollop of cream, pour a cup of tea and bake the most of these times with your family!
Ingredients
Buttermilk Pie Crust:
½ cup almond meal
¼ cup CSR Brown Sugar
Pinch of salt
2½ cup White Wings Plain Flour
225g cold butter chopped
1 egg yolk
⅓ cup cold buttermilk
Fruit filling of your choice with:
¾ cup CSR Brown Sugar
½ cup White Wings Cornflour
60g soft butter
Cinnamon, vanilla and any other spices of your choice  
Method
Grease a 20-22cm pie dish (the disposable tin foil pans bake the best!)
Place almond meal, sugar, salt & flour in a large bowl and stir to combine.
Add the butter and use your finger to work into a fine bread crumb like texture. Whisk in the egg yolk & the buttermilk and stir.
Tip the dough out onto a floured bench and knead until all combined. Divide the dough into 2 equal halves. Roll out one piece in a big circle to cover the base of the pie dish. Press in gently, cove any holes and then trim the edge.
Now let's prepare the filling - choose your fruits, add it to a bowl and combine with all the filling ingredients. Place into the pie dish.
Roll out the second piece of dough to make a pastry lid for the top, feel free to do some pretty decorative elements here. If you cover the pie in full make sure to cut some slits in the pastry so the filling can cook!
Cover the pie and place in the fridge for at least 1hr and up to 24hrs.
Preheat oven to 180°C. Brush the pie with a beaten egg and for a beautiful glistening finish, sprinkle CSR Raw Caster sugar all over the top. 
Bake approx. 50-60 minutes until pastry is rich golden brown and filling is bubbling away. 
Wait at least 45 mins before serving so the pie has cooled slightly and the filling has firmed up.
Alisha's tips and tricks for this recipe:
This pie dough recipe is SUPER delicious! Fill the pie with any fresh or tinned fruit you have at home. For the pie filling use ¾ cup brown sugar, ½ cup of cornflour, 60g soft butter, spices of your choice (cinnamon & vanilla are great) with your chosen fruit to make a perfectly set centre! Raw Caster sugar gives this pie a beautiful glisten after baking!