Basic Chocolate Cake
Prep: 30 mins
Cook: 50 mins
Servings: 20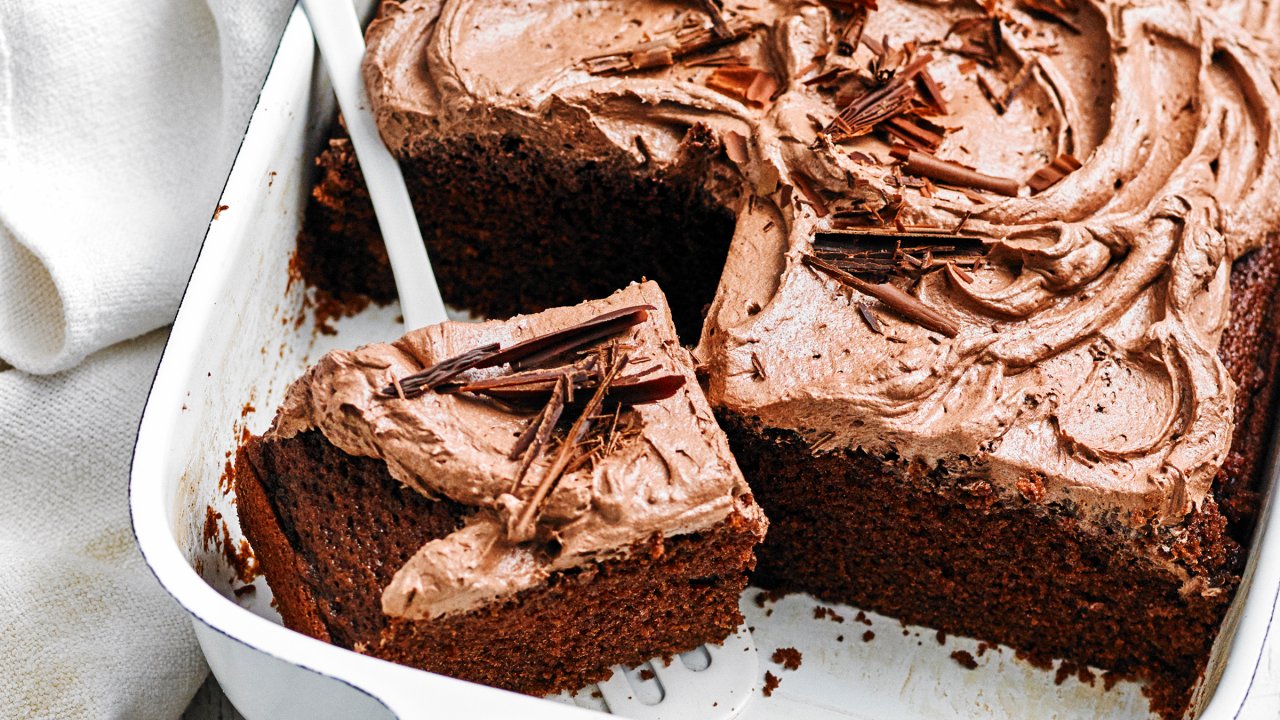 Go back to basics with this super simple chocolate cake, topped with chocolate buttercream icing.
Ingredients
Chocolate Cake:
3 cups (660g) CSR Caster Sugar (superfine)
250g (8oz) butter, chopped 
2 cups (500ml) water 
⅓ cup (35g) cocoa powder 
1 tsp bicarbonate of soda (baking soda) 
3 cups (450g) White Wings Self Raising Flour 
4 eggs, beaten lightly 
Chocolate Buttercream: 
125g (4oz) butter 
1½ cups (240g) CSR Icing Sugar 
⅓ cup (35g) cocoa powder 
2 tbsp milk
Method
Preheat oven to 180°C/350°F. Grease a deep 26.5cm x 33cm (10¾in x 13¼in), 3.5 litre (14 cup) roasting pan (see tips); line base with baking paper. 
Place sugar, butter, the water and combined sifted cocoa and soda in a large saucepan; stir over medium-low heat, without boiling, until sugar dissolves and butter has melted. Bring to the boil. Reduce heat to low; simmer, for 5 minutes. Transfer mixture to a large bowl; cool to room temperature. 
Add flour and egg to chocolate mixture; beat with an electric mixer until mixture is smooth and changed to a paler colour. Pour mixture into pan. 
Bake cake for 50 minutes or until a skewer inserted into the centre comes out clean. Leave cake in pan for 5 minutes before turning, top-side up, on a wire rack to cool. 
Make chocolate buttercream: Beat butter in a small bowl with electric mixer until as white as possible. Gradually beat in half the sifted icing sugar and cocoa, then the milk and remaining icing sugar and cocoa. 
Spread cold cake with buttercream. Decorate with chocolate shavings, if you like.
Tip:
Choose a perfectly level-bottomed roasting pan; one made from cast aluminium is the best choice, but almost any type will work. If the cake appears to be cooking too quickly in the corners of the pan, reduce the oven temperature to 160°C/325°F; this will increase the cooking time by up to 15 minutes. Cake will keep for up to 2 days in an airtight container at room temperature, or in the refrigerator for up to 4 days. Frosted or unfrosted, the cake can be frozen for up to 3 months.