Berry & Cream Cheese Scrolls
Prep: 15 mins
Cook: 25 mins
Servings: 8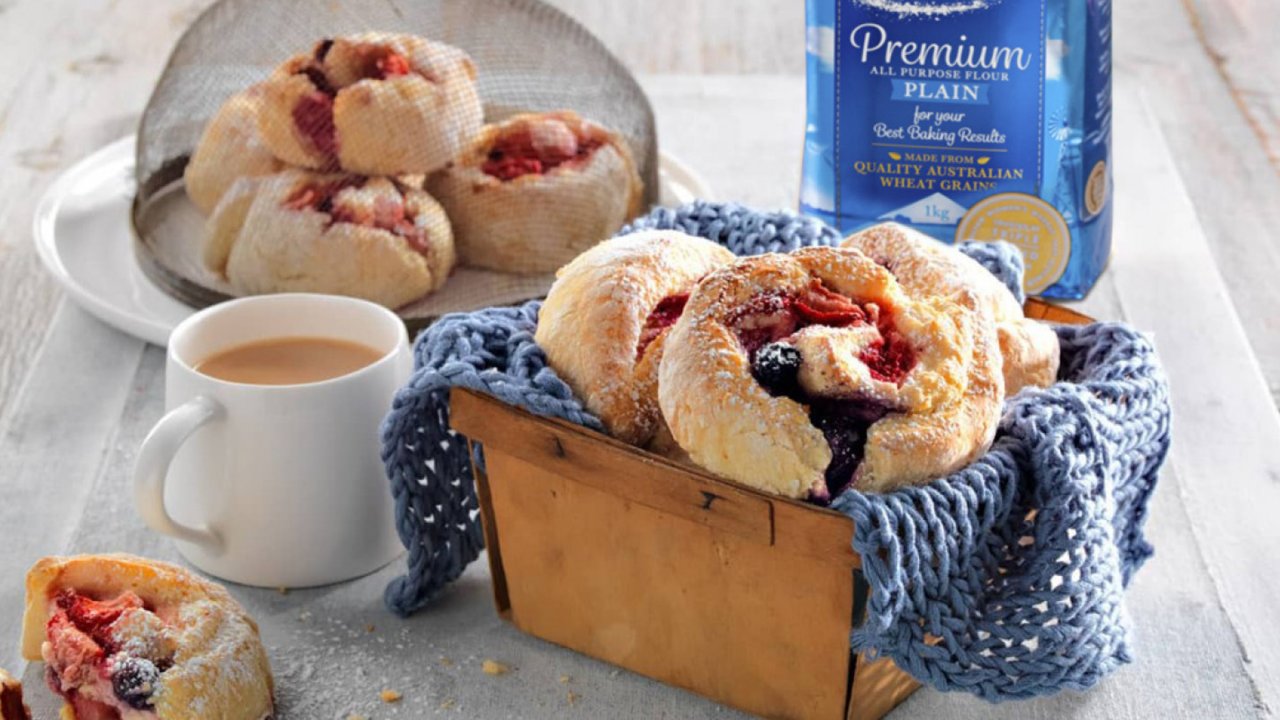 Ready in under 40 minutes, these Berry & Cream Cheese Scrolls are a nostalgic winter warmer. Perfect with a cup of tea.
Ingredients
2 ¼ cups White Wings Plain Flour
1 tbsp CSR Caster Sugar
2 tsp baking powder
Pinch salt
¾ cup milk
½ cup greek style yoghurt
1 cup frozen blueberries
125g spreadable cream cheese
2 tsp caster sugar
½ tsp vanilla extract
Method
Pre-heat oven to 180°C (160°C fan-forced). Lightly oil a baking tray.
Combine flour, sugar, baking powder and salt in a large bowl. Separately, mix together the milk and yoghurt. Add to flour and mix until all just comes together. Do not overmix.
Tip onto a floured benchtop and bring together to form a round. Transfer onto a floured sheet of baking paper and roll out to approx. 35 x 25cm. The paper will assist when rolling up the dough.
Spread cream cheese mixture over ¾ of the dough, from the long edge. Sprinkle with berries.
Using the paper to assist, roll up the dough from the long edge until a roll has been formed. Cut into 8 even sized pieces and transfer cut side up onto baking tray leaving several centimetres between them to allow for spreading. Bake for 25 minutes until cooked through. Dust with icing sugar prior to serving.
Tips:
Place rounds into ¾ cup capacity muffin pans to cook them separately.
In place of berries, dice and cook 2 small apples. Chill before using.
Dough is quite sticky, so ensure you flour benchtop and baking paper to prevent sticking. Adding more flour to the dough will give a drier end result.