Berry Trifle
Prep: 20 mins
Cook: 20 mins
Servings: 6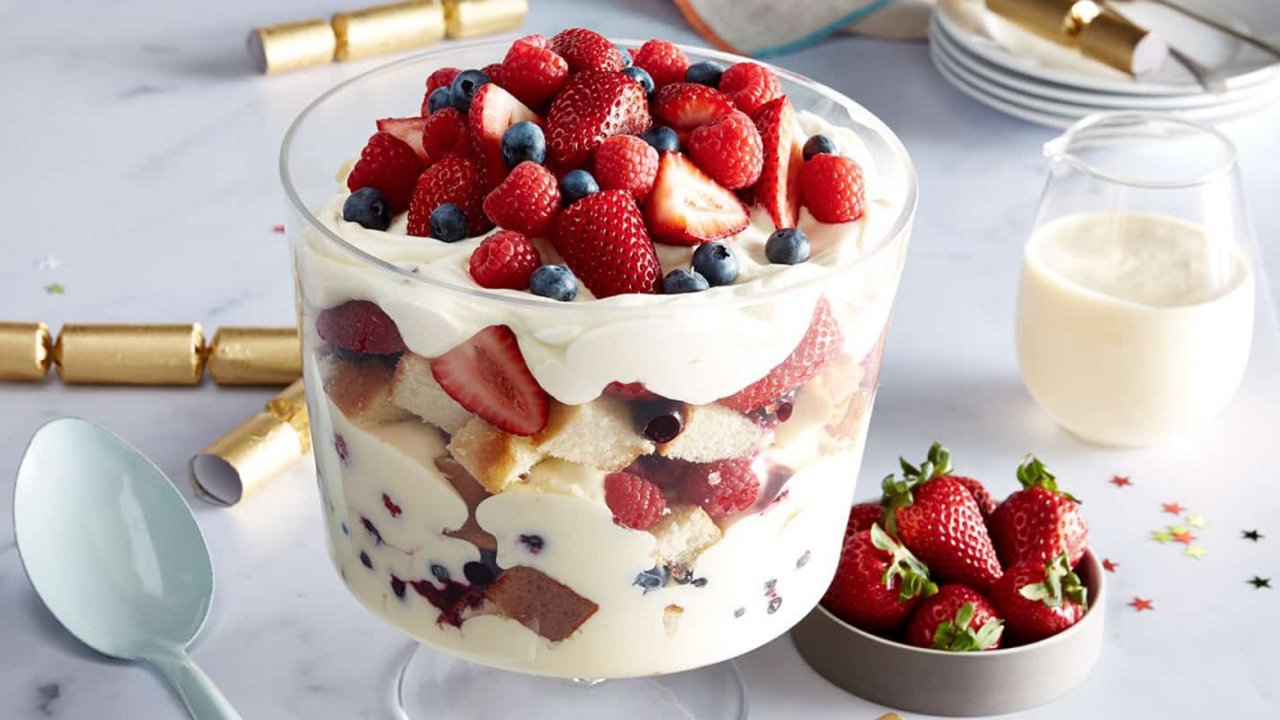 Giving a whole new use to a traditional vanilla cake, this trifle brings together the flavours of berries, custard and cake to satisfy every dessert lover!
Ingredients
1 White Wings Vanilla Cake cubed in 1/2inch pieces
2 cups blueberries
3 cups raspberries
1 tablespoon juice from 1 lemon
1 teaspoon of corn starch
3 tablespoons sugar, divided
1L heavy whipping cream
1L custard
500g strawberries, halved
Method
Bake cake as per instructions on the box and let cool
Combine 1 cup blueberries, 1 cup raspberries, lemon juice, 1 tablespoon sugar, and ½ teaspoon cornstarch in a saucepan and mix to combine. Place saucepan over medium high heat and cook, stirring often, until berries begin to break down, about 5 minutes. Allow to cool.
Using a standing or handheld mixer, whip the cream and remaining 3 tablespoons sugar together until stiff peaks form. Set aside 1 cup for topping. Place ¼ of remaining whipped cream in bowl with custard and gently fold together using a spatula. Once initial whipped cream is incorporated into custard, fold in remaining whipped cream (leaving cup set aside for topping).
To assemble trifle: Place about ½ cup of the custard at the bottom of the trifle dish, then using about a third of the Vanilla cake, cover the bottom of the dish. Cover pound cake with 1/3 of berry compote, followed by about 1 cup blueberries, followed by custard. Top the custard with more pound cake, followed by ½ the remaining berry compote, ½ the remaining raspberries, and ½ the remaining custard. Top with remaining pound cake sprinkled with remaining compote and 1 cup of the halved strawberries.
Top the trifle with 1 cup remaining whipped cream and decorate with remaining berries. Allow to sit for at least 30 minutes in the refrigerator. Serve cold.