Choc Brownie Ice-Cream Sandwiches
Prep: 45 mins (+ cooling & freezing)
Cook: -
Servings: 16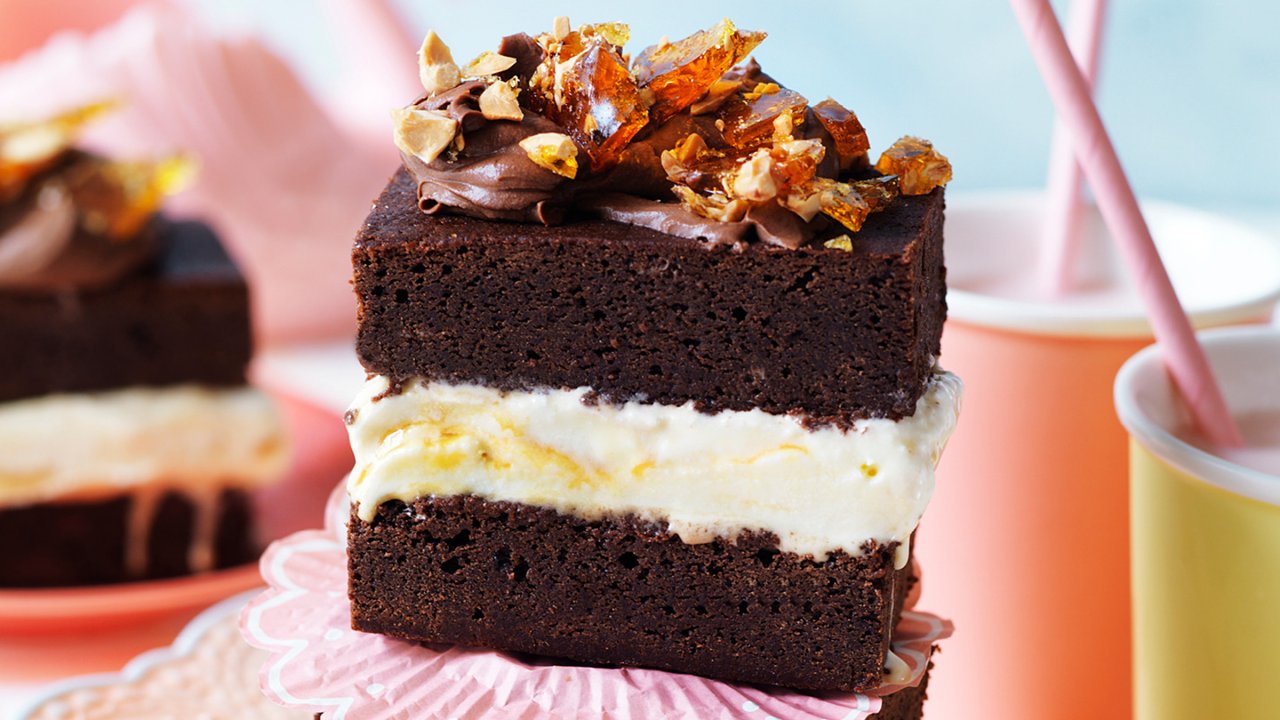 It's funny how we crave ice cream during winter too! Anyone else?
These Choc Brownie Ice-Cream Sandwiches are the perfect balance between a cold and warming dessert.
Ingredients
Chocolate Brownie: 
300g (9½ ounces) dark (semi-sweet) chocolate 
185g (6 ounces) butter, chopped 
¼ cup (25g) dutch-processed cocoa powder 
1 cup (220g) firmly packed CSR Brown Sugar 
¾ cup (165g) CSR Caster (superfine) Sugar 
2 tsp vanilla extract 
4 eggs 
1½ cups (225g) White Wings Plain All-Purpose Flour 
2 cups (500ml) caramel swirl ice-cream 
Chocolate Ganache: 
300ml pouring cream  
200g (6½ ounces) dark (semi-sweet) 
Chocolate Almond Toffee: 
100g (3 ounces) blanched almonds 
1 cup (220g) CSR Caster Sugar (superfine)
½ cup (125ml) water
Method
Preheat oven to 160°C/325°F. Grease two 20cm (8-inch) square cake pans; line with baking paper, extending paper 5cm (2 inches) over sides. 
Break chocolate into a large heatproof bowl; add butter. Place over a large saucepan of simmering water; stir until smooth. Remove from heat; whisk in sifted cocoa, sugars and extract until smooth. Stir in eggs and sifted flour. 
Spread mixture evenly into pans. Bake about 35 minutes; cool brownies in pans. Enclose brownies in plastic wrap, freeze until ready to assemble. 
Soften ice-cream slightly. Line a cleaned 20cm (8-inch) square pan with plastic wrap. Evenly spread ice-cream into pan, smoothing top; freeze.
Cut each brownie into 16 x 5cm (2-inch) squares. Turn ice-cream onto a board; cut into 16 x 5cm (2-inch) squares. Sandwich ice-cream squares between brownie squares. 
Make chocolate ganache: Bring cream to the boil in a small saucepan; remove from heat. Break chocolate into cream; stir until smooth. Transfer mixture to a small bowl. Refrigerate until firm. Beat ganache with an electric mixer until spreadable.
Make almond toffee: Stir nuts in a large heavy-based frying pan until golden; remove from pan to baking-paper-lined oven tray to cool. Combine sugar and the water in a small saucepan, stir over high heat, without boiling, until sugar is dissolved. Bring to the boil; boil, without stirring, for 10 minutes or until mixture turns a golden colour. Remove from heat, allow bubbles to subside. Pour toffee evenly over nuts; leave to set at room temperature. Break roughly into pieces. 
Top brownie sandwich with ganache and toffee.  
Tip: 
Use a large, sharp hot dry kitchen knife to cut the brownie sandwich into squares. If you are not going to serve it all, it's best to only cut what you need as the cut brownie will dry out in the freezer. Cover the cut surfaces with plastic wrap and freeze before it melts.