Chocolate Donut Sandwiches with Cookies + Cream Icing and Milk Choc Glaze
Prep: 30 mins
Cook: 10 mins
Servings: 12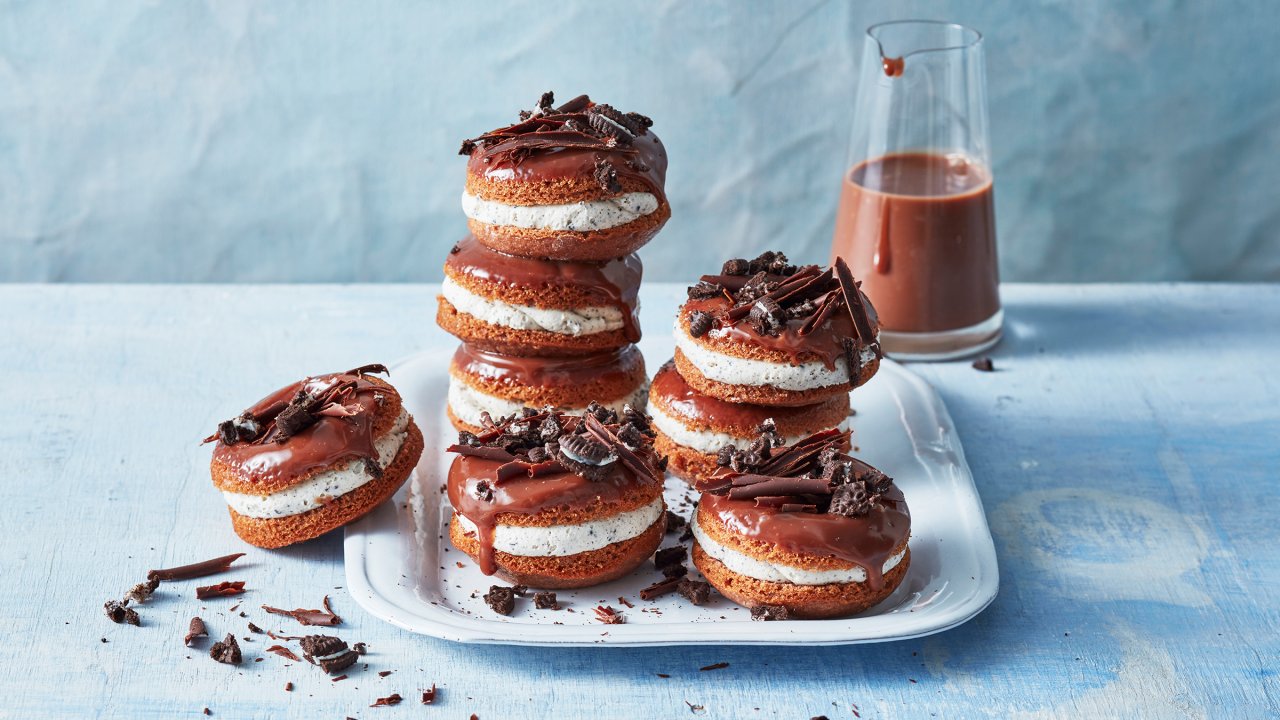 A sandwich but in dessert form! A beautiful cookies and cream filling between two layers of donut, served with a milk choc glaze and Oreos, you will be licking your lips before they are even ready!
Ingredients
1 x White Wings Baked Donut Bites 
40ml vegetable oil 
1 egg 
60ml milk 
1 tbsp cocoa powder, sifted 
1 x White Wings Cookies and Cream Filling Mix 
150g soft unsalted butter 
45ml milk 
100g Oreo biscuits, finely chopped 
Dark chocolate curls, to serve 
Milk Choc Glaze:
100g milk chocolate, chopped 
75g sour cream 
1 tbsp milk   
Method
Prepare donut mix as directed. Fold through cocoa powder until combined. Spoon into a sealed large zip-lock bag. Cut one corner to make a hole. Pipe among a greased 12-hole mini donut pan. Bake for 7 -8 minutes until a skewer inserted in the centre comes out clean. Invert onto a wire rack to cool completely. 
Using a serrated knife, halve donuts horizontally. Place bases on a serving platter. 
Prepare cookies and cream filling as directed. Transfer icing to a piping bag fitted with a 2cm fluted nozzle. Pipe icing over the bases of the donuts. Scatter with chopped biscuit, then sandwich with donuts tops. 
For milk choc glaze, place chocolate and sour cream a small microwave heat bowl. Microwave high for 1 minute, stirring every 30 seconds with a metal spoon until smooth. Add the milk and whisk until smooth and has a glaze-like consistency. 
Drizzle donuts with glaze and top with chocolate curls to serve.