Christmas Tree Cupcakes
Prep: -
Cook: -
Servings: 12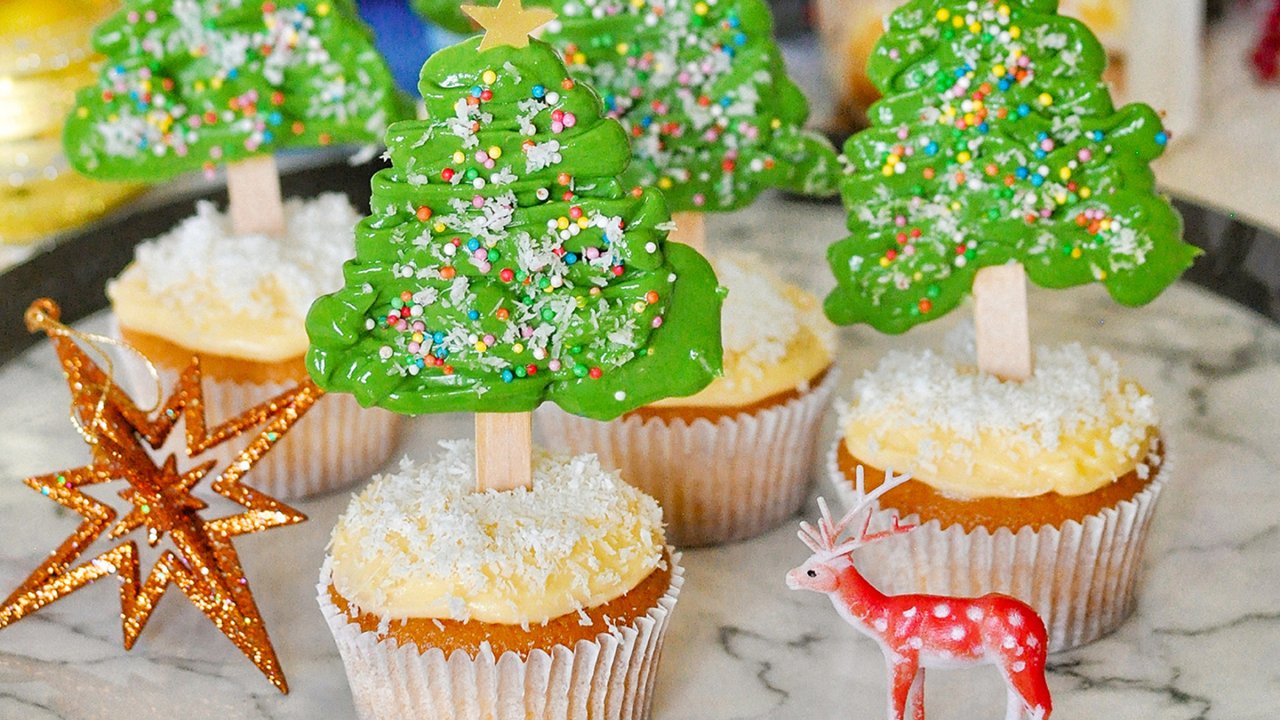 Christmas is just around the corner and I love to have my friends and family over and whip up a festive treat for them with White Wings Packet Mixes and CSR Sugar All Natural Buttercream Icing Mixes.
They are the perfect pairing to create these magical Christmas Tree Cupcakes; the vanilla cupcake packet mixes make baking so convenient and the buttercream icings are really easy to finish off a gorgeous and delicious Christmas dessert!
They are a great cooking hack that takes the time and stress out of baking from scratch which is exactly what I need during the busy Christmas period. Try it for yourself, you can find the range in Woolworths and independent supermarkets. 
Ingredients
Cupcakes:
1x White Wings Vanilla Cupcake Packet Mix
60g soft butter
2 eggs 
½ cup milk
1 tbsp desiccated coconut 
Icing:
150g soft butter 
3 tsp water 
Christmas Trees:
Icypole sticks
300g white chocolate melts
Green food colouring
Sprinkles 
Method
Preheat oven to 180°C and line a 12 muffin tray with cupcake cases.
Place the cupcake mix, eggs milk and soft butter into a small mixing bowl. Using an electric mixer, beat on low speed for 30 seconds to combine and increase speed to medium and mix for 2 minutes. 
Spoon cupcake mixture into muffin tray and bake for 20 minutes or until a skewer inserted into the centre comes out clean. Stand for 5 minutes in muffin tray before placing onto a wire rack to cool. 
For the icing, beat the butter in a bowl using an electric mixer until pale and gradually add the icing mix and water, beating until smooth, for 3-5 minutes. Spread icing over cupcakes and sprinkle on the desiccated coconut. 
For the Christmas trees, line icy pole sticks up on a baking paper lined oven tray. Place chocolate in a heatproof bowl over a saucepan of gently simmering water. Mix until melted and smooth. Remove and stir in food colouring, mixing until the colour is even. 
Pour chocolate into a piping bag with a narrow slit nozzle. Pipe chocolate over icy pole sticks in the shape of a Christmas tree. Sprinkle with coconut and sprinkles. Allow chocolate to set in fridge before pressing into the top half of the cupcakes. Enjoy!
by @loveatfirstbite_aus