Coconut & Lime Winter Wonderland Layer Cake
Prep: 1 hour 30 mins
Cook: 1 hour 15 mins
Servings: 10-12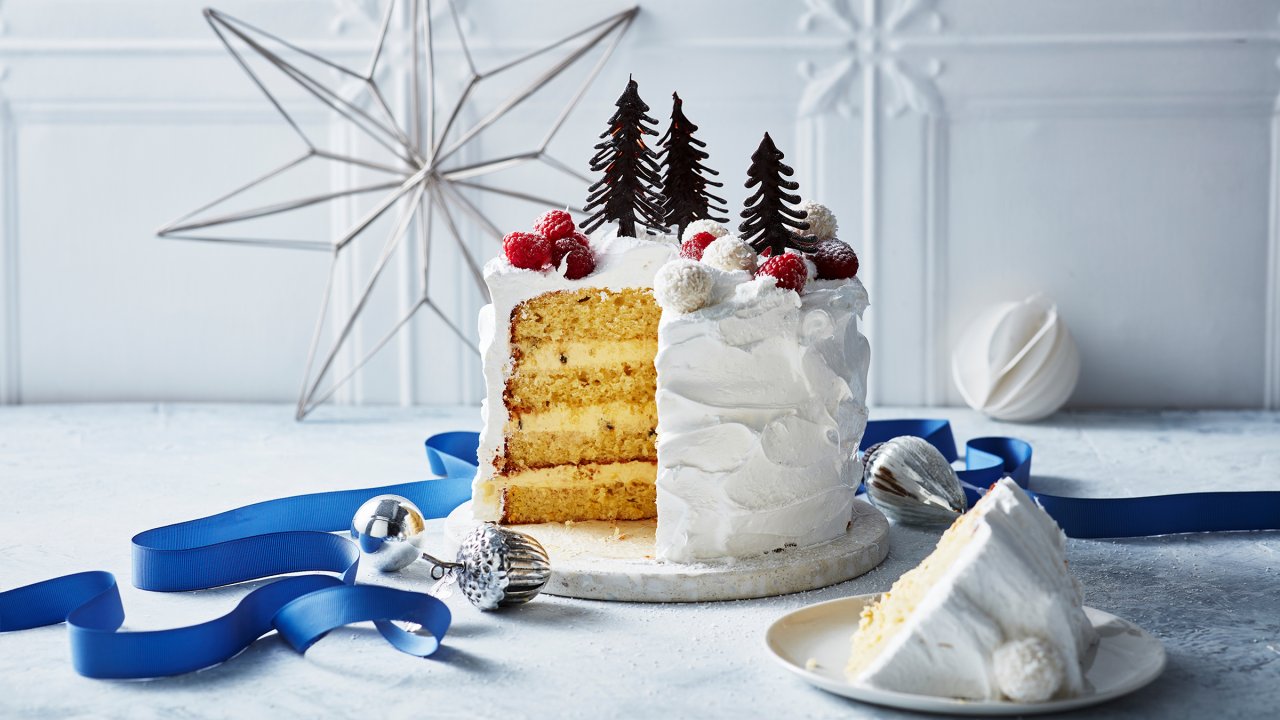 This Coconut and Lime Winter Wonderland Layer Cake is a Christmas showstopper. The spongey coconut and lime cake layers are filled with passionfruit cream and topped with Swiss meringue and Christmas trees for a Winter Wonderland finish.
Ingredients
250g butter, softened
310g CSR Caster Sugar
Finely grated zest of 4 limes
5 eggs, room temperature
310g crème fraîche, room temperature
60ml lime juice (about 2-3 limes) 
375g White Wings Self Raising Flour, sifted
100g desiccated coconut, plus extra for dusting
Spiced rum (or orange juice), for brushing
Dark chocolate trees, to decorate
White chocolate-coconut truffles, to decorate
Raspberries, to decorate
CSR Icing Sugar, for dusting
Chopped mango and passionfruit pulp, to serve
Passionfruit cream:
4 egg yolks 
110g CSR Caster Sugar 
80ml passionfruit pulp
60g unsalted butter 
500g mascarpone 
1 tsp vanilla bean paste
Swiss Meringue:
6 egg whites
330g CSR Caster Sugar 
1 tsp sea salt 
¼ tsp coconut extract or 1 tsp coconut essence 
Method
Passionfruit curd: whisk egg yolks, sugar and passionfruit pulp in a small saucepan until combined. Add butter and place over medium-low heat. Stir for 5-6 mins, until mixture thickens and coats the back of a spoon. Refrigerate until chilled, 3-4 hours or preferably overnight.
Preheat oven to 160°C (fan-forced). Grease and line two 18cm round cake tins with baking paper. Beat butter, sugar and zest in an electric mixer for 10 mins until pale and fluffy. Add eggs, one at a time, beating well after each addition.
Add crème fraîche and lime juice, beat to combine. Fold through flour and coconut. Divide evenly among prepared tins and bake for 45-50 mins until golden and a skewer inserted into the centre comes out clean. Cool completely in pans.
Passionfruit cream: Combine mascarpone, passionfruit curd and vanilla in an electric mixture and whisk for 1-2 mins until firm peaks form.
Turn cakes out of pans and carefully halve each horizontally with a serrated knife. Place one cake layer on a cake stand, brush generously with rum and spread with one-third of mascarpone mixture. Repeat layering 2x, finishing with a layer of cake. Refrigerate.  
Swiss meringue: combine egg whites, sugar and salt in a heatproof bowl over a saucepan of simmering water. Cook, stirring, for 10 mins until sugar dissolves and mixture reaches 70°C on a sugar thermometer. Transfer to an electric mixer and whisk on high for 10-12 mins until mixture is thick and glossy. Add coconut extract and whisk until combined.
Spread meringue over cake. Top with chocolate trees, white chocolate-coconut truffles and raspberries.  Scatter with extra coconut and icing sugar to form snow. Serve cake with mango and extra passionfruit.