Custard Filled Donuts with Salted Maple Butterscotch
Prep: 45 mins, plus chilling overnight
Cook: 20 mins
Servings: 24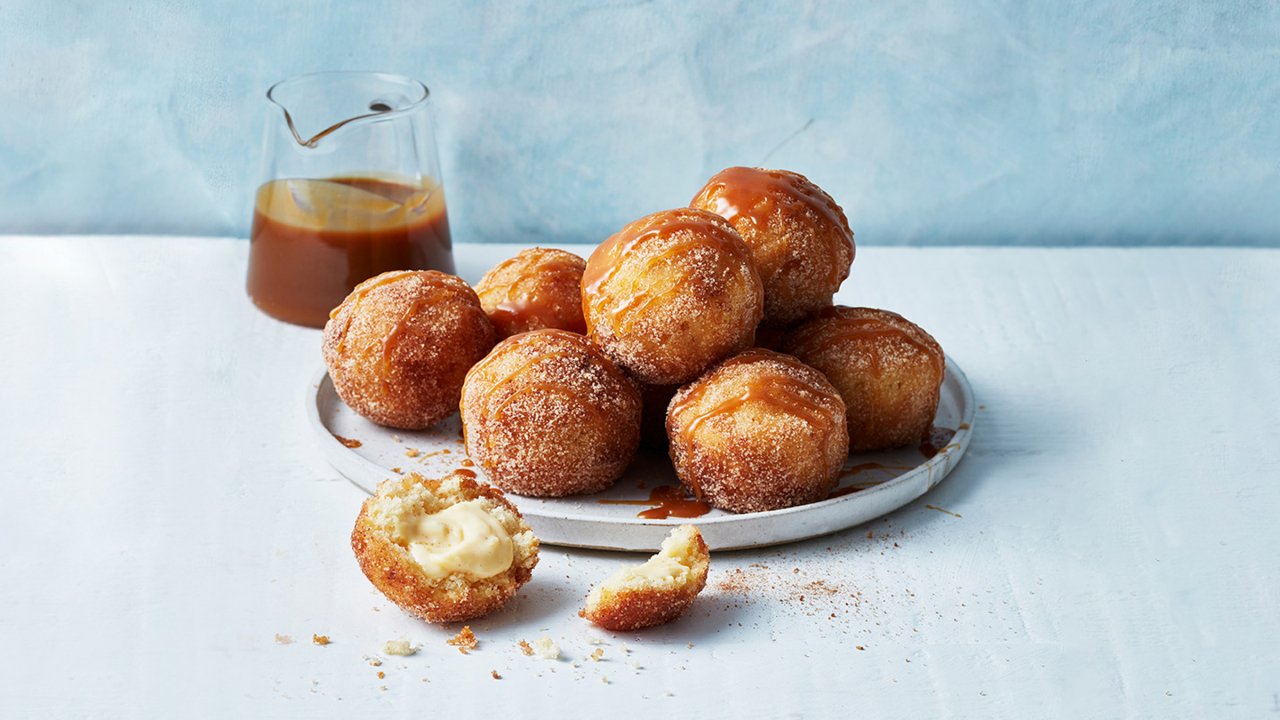 Donuts...filled with custard...covered in salted maple butterscotch. Need I say more?
One bite of these and we can guarantee you'll be back for more.
Ingredients
1 packet White Wings Vanilla Bean Custard Mix 
900ml cold milk 
3 egg yolks 
60g unsalted butter 
4 packets White Wings Baked Donut Bites 
40ml vegetable oil 
1 egg 
60ml milk 
250g melted butter
Method
Prepare, cook and chill White Wings Vanilla Bean Custard filling as directed. 
For salted maple butterscotch, place maple syrup in a small saucepan over medium-high heat.  Cook, stirring occasionally, for 3-4 mins until caramelised. Remove from the heat and whisk in the butter. Add cream and salt, then whisk until smooth. Refrigerate for 2 hours to thicken. 
Preheat oven to 200°C conventional (180°C fan-forced). Grease two 12-hole, ½ cup (125mL) capacity muffin pans. Prepare White Wings Baked Donut Bites as directed.  Divide donut mixture evenly among prepared pans and bake for 12-14 minutes until a skewer inserted into the centre comes out clean.  Transfer to a wire rack to cool completely. Using a paring knife, trim the crusty edges of the donut muffins to shape into balls. 
Transfer vanilla custard mixture to a piping bag fitted with a 1cm round nozzle. Pierce base of each doughnut with the piping tube and pipe a little custard filling into each. 
Place provided cinnamon sugar in a large bowl. Brush cooled donuts with melted butter and toss in cinnamon sugar to coat. Transfer to a serving platter and drizzle with salted maple butterscotch to serve.