Donna Hay Chocolate Bunny Tail Cupcakes
Prep: -
Cook: 20-25 mins
Servings: 12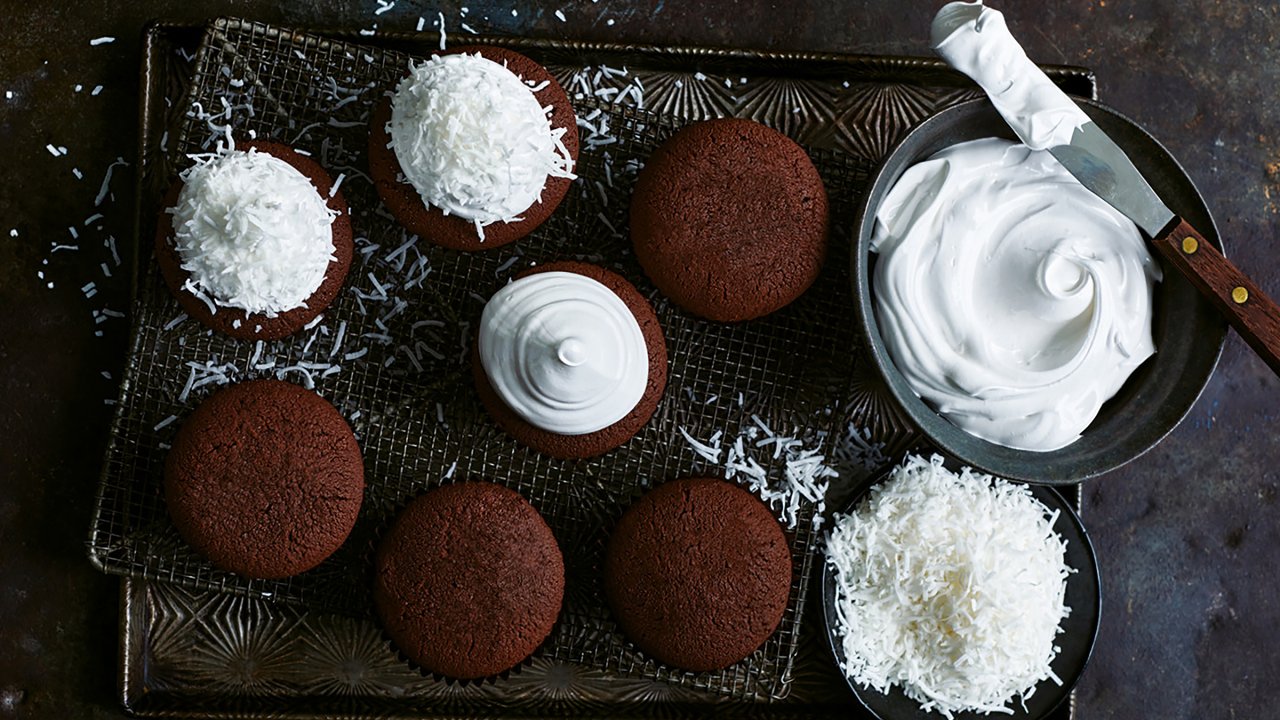 Hop to it and create Chocolate Bunny Tail Cupcakes for Easter. With their meringue bunny tails and shredded coconut "fur", these Chocolate Bunny Tail Cupcakes make a delightful Easter treat.
This Chocolate Bunny Tail Cupcakes recipe is from Australian food stylist, author and magazine editor – Donna Hay.
Ingredients
Cupcakes:
1¼ cups (185g) White Wings Self-Raising Flour
½ cup (50g) cocoa
¾ cup (165g) CSR Caster Sugar (superfine)
½ cup (120g) firmly packed CSR Brown Sugar
125g unsalted butter, softened
2 eggs
⅔ cup (160ml) milk
2 tsp vanilla extract
Shredded coconut, for sprinkling
1 egg yolk, extra
Meringue Icing:
⅓ cup (80ml) water
½ tsp cream of tartar or 1 tsp lemon juice
2 cups (440g) CSR Caster Sugar (superfine)
150ml egg white (about 4 eggs)
Method
Cupcakes:
Preheat oven to 160°C (325°F). Place the flour, cocoa, sugar, butter, eggs, milk and vanilla in the bowl of an electric mixer and beat on medium speed for 6 minutes or until pale and smooth.
Spoon the mixture into 12 x ½-cup-capacity (125ml) cupcake tins lined with paper cases. Bake for 20–25 minutes or until cooked when tested with a skewer. Transfer to a wire rack to cool completely.
Meringue Icing:
To make the meringue icing, place the water, cream of tartar or lemon juice and half the sugar in a small saucepan over high heat. Cook, stirring, until the sugar has dissolved. Bring to the boil, reduce the heat to medium and cook for 4 minutes.
Place the egg white in the bowl of an electric mixer and whisk on high speed until stiff peaks form. With the motor running, add the remaining 1 cup (220g) of sugar, 1 tablespoon at a time, whisking for 30 seconds before adding more.
Gradually add the hot sugar syrup in a thin steady stream and whisk for a further 4 minutes or until thick, glossy and cooled.