Easter Bunny Cupcakes
Prep: 30 mins
Cook: 25 mins
Servings: 12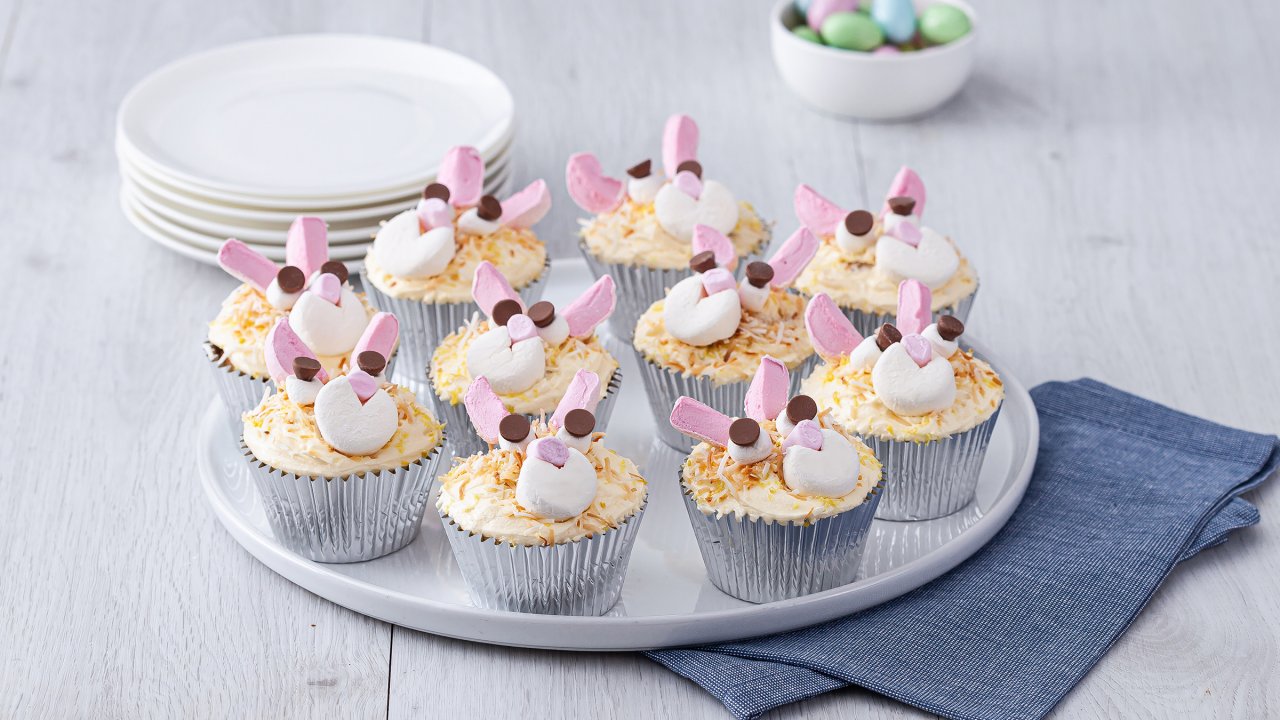 Spring into action this Easter with these adorable Bunny Cupcakes. Follow the 5 simple steps and you'll have the kids bouncing up and down to get their hands on one of these!
Ingredients
Cupcakes:
1½ cups White Wings Self-Raising Flour  
½ cup White Wings Plain Flour 
1 cup CSR Caster Sugar 
3 eggs 
150g butter, softened 
2/3 cup milk 
2 tsp vanilla essence 
Buttercream:
Decorations:
Marshmallows, Normal and mini size, pink and white (for cheeks, nose, eyes and ears) 
Chocolate chips, milk or dark (for eyes) 
Shredded coconut, toasted (for fur) 
1 lemon for zesting 
Method
Pre-heat oven to 180°C (160°C fan-forced). 
Place all of the cake ingredients in a large mixing bowl and use electric beaters on low speed for 30 seconds. Once combined, increase speed to high and beat until mixture is thick and smooth. 
Line a 12 hole, ½ cup capacity muffin tray with paper liners and divide the batter equally into each. Bake for 25 minutes or until a skewer inserted into the centre comes out clean. Remove from the oven and leave in tin for 5 minutes before removing and leaving to cool completely on a wire rack. 
Prepare the buttercream icing by beating softened butter on high speed until pale before gradually adding the remaining ingredients. Transfer buttercream to a piping bag with a med-large round nozzle tip. 
Pipe a tablespoon of icing onto the centre of each cup cake and smooth all over surface with a knife. Sprinkle with toasted coconut and fine grated lemon zest. Cut and arrange marshmallows pieces to make the cheeks, nose, eyes and ears. Add 2 chocolate chips for the eyes.