Easter Bunny Scrolls
Prep: 45 mins
Cook: 15-20 mins
Servings: 10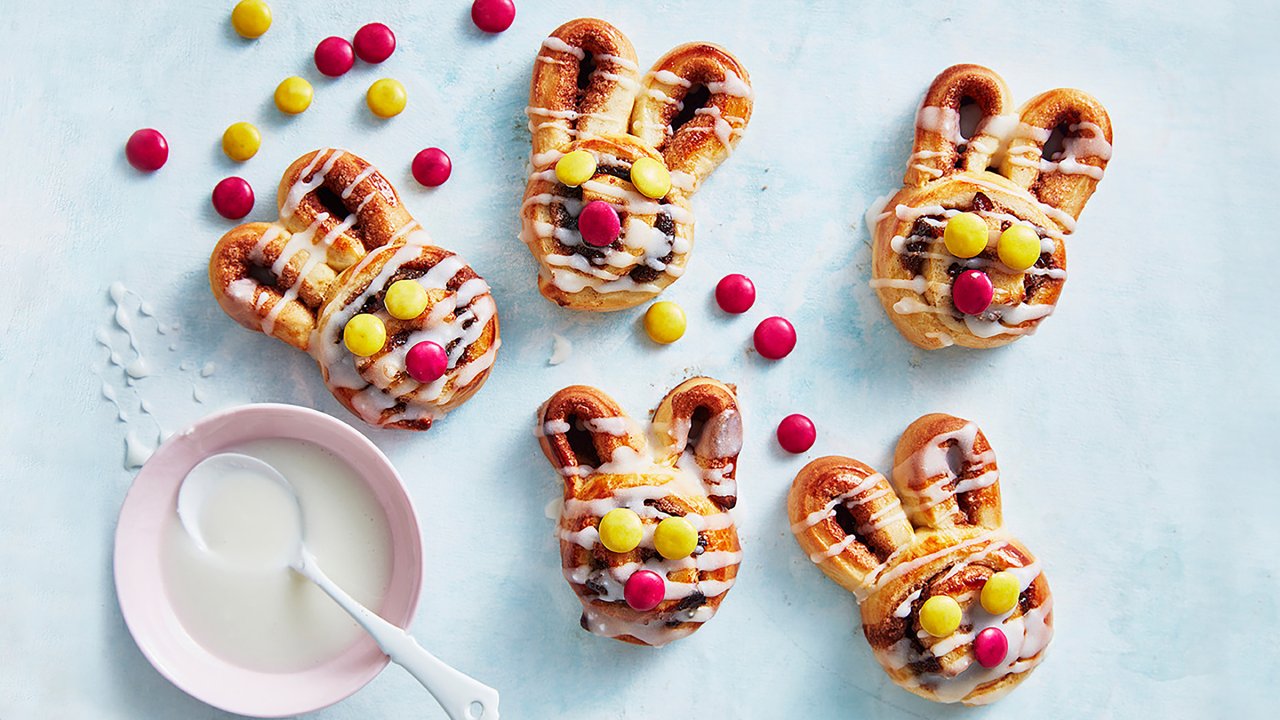 The kids will want to fill their baskets with these Easter Bunny Scrolls! A classic cinnamon scroll turned into an Easter showstopper, put your decorating hat on and get to it.
Ingredients
1 packet White Wings Cinnamon Scroll Mix 
1 egg 
80g unsalted butter, melted 
100ml lukewarm milk 
40g butter 
20ml cold milk
⅔ cup (120g) coarsely chopped Australian raisins 
Egg wash: 1 egg yolk mixed with 2 tsp milk 
20 yellow smarties 
10 pink smarties 
Method
Prepare and prove dough as directed. Grease and line two large, flat baking trays with baking paper. 
Prepare cinnamon butter as directed. Roll out dough between two sheet of baking paper to a 40cm x 30cm rectangle. 
Spread butter over dough, leaving a 1cm border. Cut one third of the dough lengthways to form a 40cm x 10cm rectangle, then cut crosswise into twenty 2cm strips. Set aside. 
Scatter raisins over the remaining rectangle of dough. Starting with the longest side, roll tightly to enclose the filling. Chill for 10 minutes to firm.
Using a serrated knife, trim ends to about 35cm in length. Cut into 10 even pieces (about 3.5cm thick). 
Divide the scrolls among baking trays. Brush 1 side of the scrolls with egg wash and using the image as a guide, arrange two strips of dough on the scroll to form ears, pinching firmly to attach. Brush the bunny with extra egg wash. Repeat with remaining scrolls and strips of dough to form 10 bunnies. Cover with a damp tea towel / cling wrap loosely and set aside in a warm place for 30 mins to prove. 
Bake bunny scrolls as directed or until golden. 
Make glaze as directed. Drizzle bunnies with glaze and decorate with yellow smarties to form eyes and pink smarties for form a nose. Set aside for 10-15 minutes to set. Serve warm or at room temperature.