Fudgy Brownie Cookie Sandwiches by Morgan Hipworth
Prep: -
Cook: -
Servings: 6-8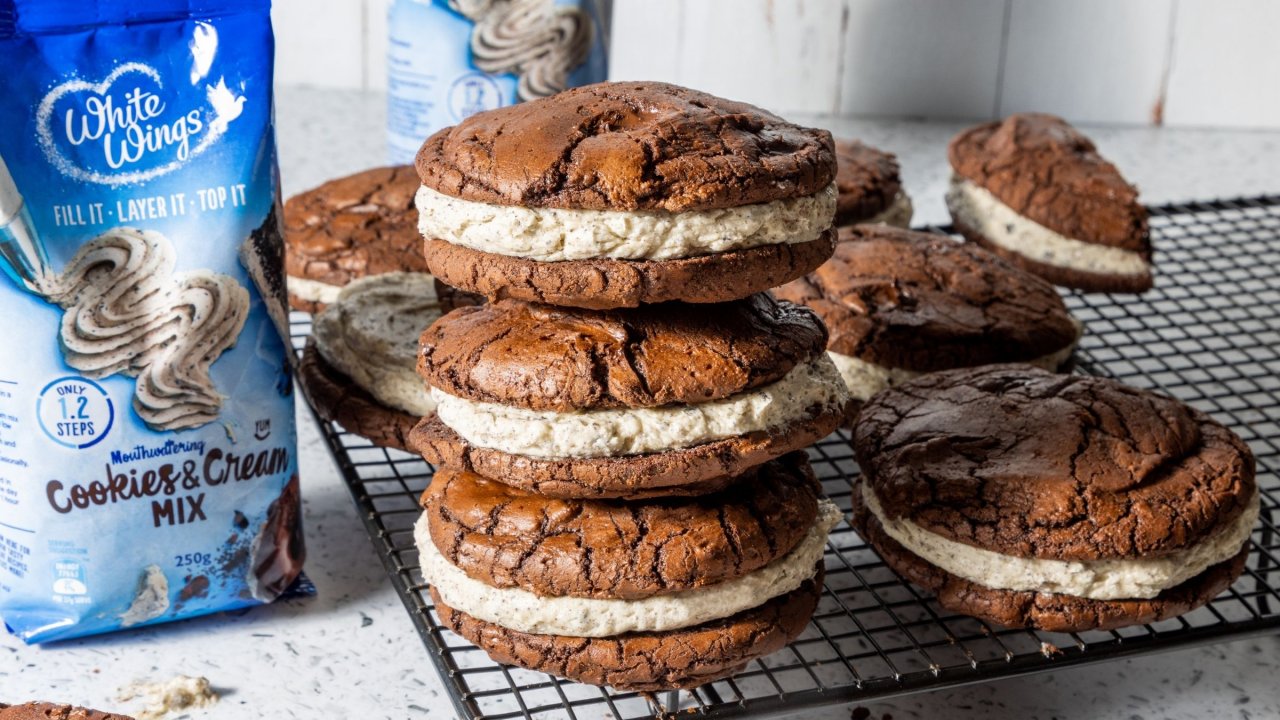 @morganhipworth has created these irresistible Fudgy Brownie Cookie Sandwiches just in time for World Cookie Day! Although, we think cookies like these can be enjoyed any day of the year! With a delicious Cookies & Cream filling, these cookie sandwiches are something sensational.
Ingredients
For the cookies:
3 eggs
225 grams CSR caster sugar
150 grams CSR brown sugar
300 grams dark chocolate (55% cocoa solids ideal)
190 grams butter
200 grams White Wings plain flour, sifted
75 grams cocoa powder, sifted
1.5 tsp baking powder, sifted
100 grams chocolate chips
For the filling:
1* White Wings Cookies & Cream Filling Mix
150 grams butter, softened
45ml milk
Method
Preheat the oven to 160°, line two baking trays.
In the bowl of an electric mixer fitted with a whisk attachment combine the eggs, caster sugar and brown sugar. Beat on high speed for 6-8 minutes or until super light and fluffy. Whilst the eggs are mixing combine the chocolate & butter and melt together in the microwave. Allow to cool for at least 5 minutes.
Combine all the remaining ingredients to the egg mixer and stir through to combine.
Using an ice cream scoop or tablespoon measure portion out around 2tbsp worth of the batter onto the trays leaving room for the cookies to spread. Bake in the preheated oven for 15 minutes. Allow to cool fully before filling.
To make the filling:
In the bowl of an electric mixer fitted with a paddle attachment, whip the butter for 2-3 minutes or until pale. Add the White Wings Cookies & Cream Filling Mix and the milk and mix of medium speed for a further 3 minutes. Transfer to a piping bag ready to assemble.
To assemble:
Flip half the cookies upside down and pipe a generous amount of filling into each, top with the remaining cookies. Enjoy!