Gingerbread Caramel & Cheesecake Sponge by Katherine Sabbath
Prep: 30 mins
Cook: 35 mins
Servings: 12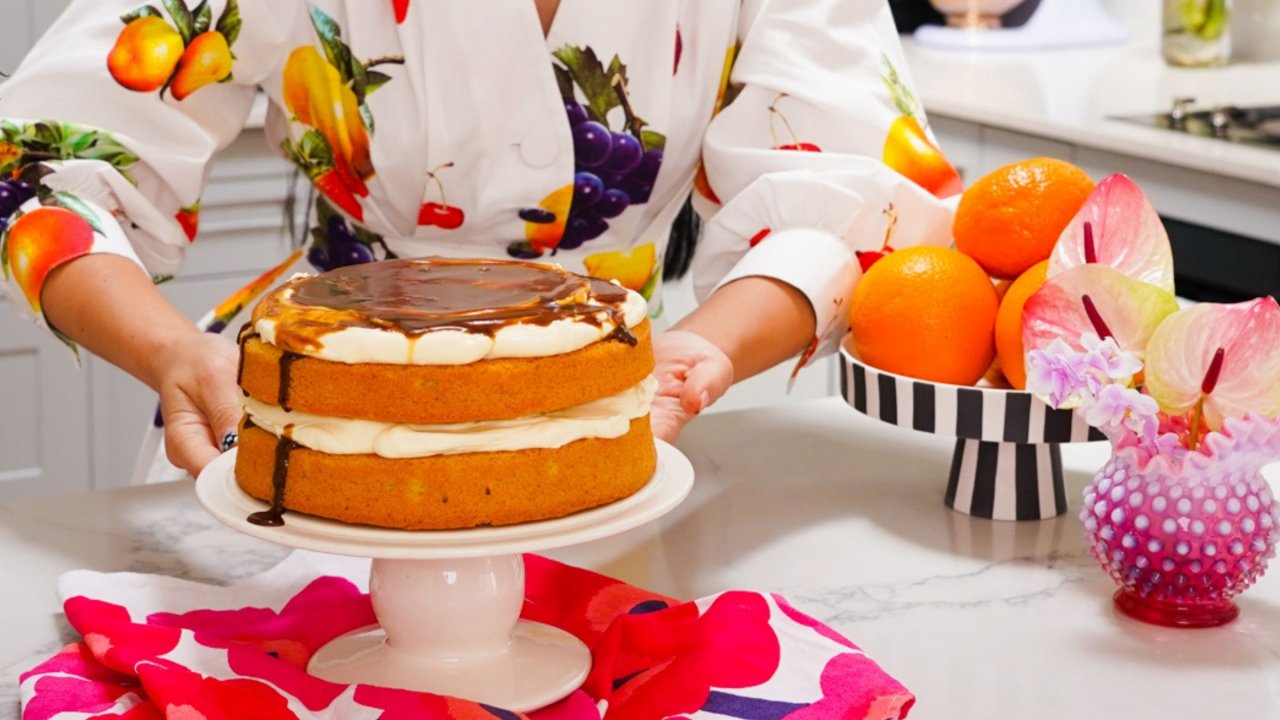 Katherine Sabbath has created this beautiful recipe for us as the smell of gingerbread brings back so many special memories of spending Christmas with her German Grandmother. The decadent addition of rich gingerbread salted caramel puts a festive spin on this nostalgic combination of fluffy sponge cake paired with a light, whipped cheesecake filling.
Ingredients
Gingerbread Salted Caramel - Makes 1 1/2 cups (375ml)
1 cup (250g) CSR Dark Muscovado Sugar
1/3 cup (90g) unsalted butter, chopped
1/2 cup (125ml) single (pure) cream or thick (double) cream
2 tsp ground ginger
1 teaspoon salt
Ginger Spongecake
2/3 cup (160g) unsalted butter, softened
1 cup (220g) CSR Caster Sugar
1 1/2 cups (240g) White Wings Self-Raising Flour
1 teaspoon ground ginger
4 free-range eggs, lightly whisked
2 tablespoons hot water
Cheesecake Filling
2 x 200g packets of White Wings Cheesecake Mix, prepared as per instructions
Method
Gingerbread Salted Caramel
Heat the CSR Dark Muscovado Sugar & butter in a saucepan over medium heat, stirring constantly with a heat proof silicone spatula or wooden spoon until sugar is dissolved & both ingredients are combined (5-10 minutes)
Continue stirring as you very slowly drizzle in cream. (Because the cream is colder than the caramel, the mixture may bubble when added.) Allow the mixture to boil for 1 minute. 
Remove the pan from heat & stir in the ground ginger & salt. Allow to cool completely before using. For a thinner consistency, stir in more cream.
Refrigerate the gingerbread salted caramel in an airtight container for up to 2 weeks, or freeze for up to 2 months.
Ginger Spongecake
To make the sponge cake, preheat the oven to 160°C (320°F) fan forced. Lightly grease two 18 cm (7 inch) round cake tins & line the base of each tin with baking paper.
Using an electric mixer, beat the butter & sugar until light, pale & creamy. Add 2 tablespoons of the flour, then gradually add the vanilla & eggs, beating well after each addition.
Gently fold in the remaining flour, ground ginger & the water. Divide the mixture equally between the cake tins.
Bake for 20–25 minutes or until the centre of each cake springs back when lightly pressed. Leave the cakes in the tins for 5 minutes before transferring to a wire rack to cool completely. Cover & set aside until needed.
To Assemble
To assemble your cake, place one layer of the ginger sponge cake onto a serving platter or cake stand. Using the back of a spoon or pallet knife, spread a generous layer of cheesecake filling on top. Drizzle some extra gingerbread salted caramel over this if desired. Repeat with the second layer of sponge cake & gently place on top of the bottom layer. To finish, drizzle with gingerbread salted caramel. Serve immediately & enjoy with loved ones!
Your cake can be refrigerated for up to 3 days and it is best served at room temperature.