Gingerbread Glazed Doughnuts
Prep: 1 hour
Cook: 20 mins
Servings: 24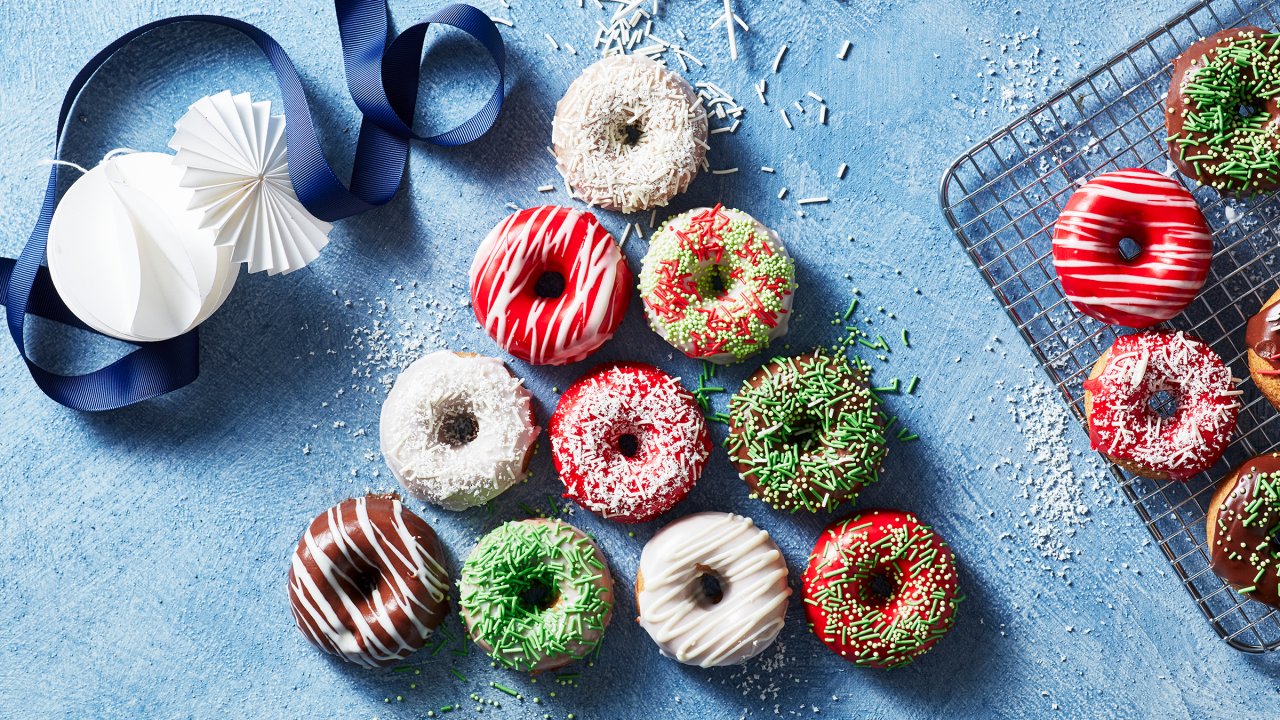 If you are planning on baking this Christmas, it has to be these Gingerbread Glazed Donuts. Topped with a milk chocolate and vanilla glaze and sprinkles… they're absolutely irresistible.
Ingredients
310g White Wings Plain Flour
25g White Wings Cornflour
2½ tsp baking powder
2 tsp ground ginger
1 tsp ground cinnamon
¼ tsp ground cloves
140g CSR Brown Sugar
150g butter, chopped
140g CSR Golden Syrup
Finely grated zest of ½ orange 
150ml milk 
2 eggs, lightly whisked 
1 egg yolk 
Sprinkles, cachous, grated white & dark chocolate, to decorate
Melted white chocolate, to decorate
Milk Chocolate Glaze: 
55g CSR Caster Sugar
80ml milk 
200g milk chocolate
1 tbsp bourbon whisky (optional)
Vanilla Buttermilk Glaze:
600g (5 cups) CSR Pure Icing Sugar, sifted
100ml buttermilk
2 tsp vanilla bean paste
1½ tsp lemon juice
Method
Preheat oven 160°C fan-forced. Grease 2 donut baking pans. Sift flour, cornflour, baking powder and spices into a large bowl. Stir through sugar. 
Melt butter, syrup, orange zest in a small saucepan over low heat. Remove from heat; add milk and eggs, whisk to combine. Add butter mixture to dry ingredients. Spoon into piping bag & pipe into donut pans.
Bake 9-10 mins or until a skewer inserted into donuts comes out clean. Leave donuts on wire rack to cool. 
Milk chocolate glaze: place sugar in a small saucepan over medium-high heat. Stir 2-3 mins, remove from heat, add milk. Return pan to stove over low heat add chocolate (and bourbon) stir 2-3 mins.
Vanilla glaze: sieve icing sugar into a bowl, add buttermilk, vanilla and lemon juice; whisk until smooth. Set aside for 5 mins. Divide mixture between two bowls, tint one with red food colouring.
Glaze donuts with dark chocolate glaze, red glaze and vanilla glaze. Decorate with melted chocolate, sprinkles and grated white chocolate.