Halloween Cheesecake Cups
Prep: 35 mins
Cook: -
Servings: 6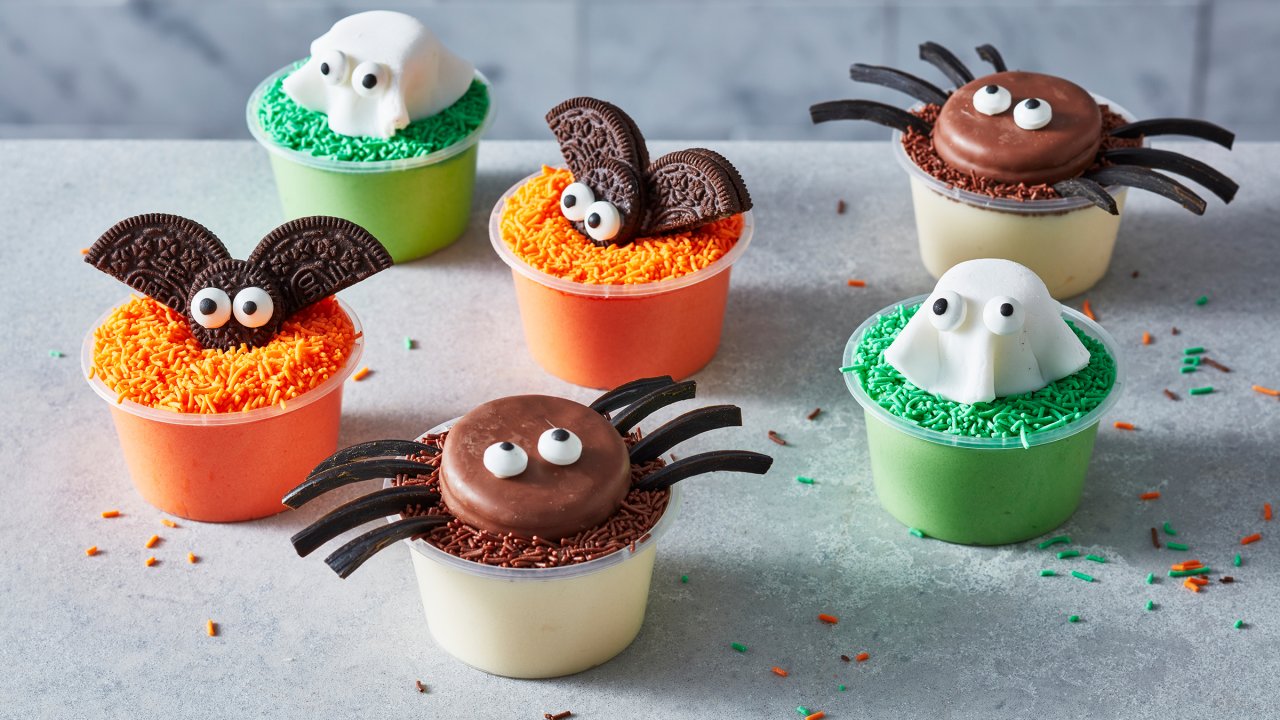 Trick or treat?
Halloween Cheesecake Cups are definitely a treat! Get the kids in the kitchen to scoop and spook this simple recipe.
Ingredients
1 packet White Wings Cheesecake Mix
310ml cold milk
Mix 8-10 drops orange liquid food colour (see note) 
8-10 drops green food colouring 
20g white chocolate 
Chocolate sprinkles, to decorate 
2 Oreo chocolate coated biscuits 
1 liquorice strap 
12 eyeball candies 
Orange coloured sprinkles, to decorate 
2 Oreo biscuits 
2 Mini Oreo biscuits 
CSR Icing sugar, to dust 
100g ready to roll soft white fondant 
2 white marshmallows 
Method
Prepare White Wings Cheesecake Mix as directed. Divide the cheesecake mixture among three medium bowls. Tint one portion orange and one portion green. Leave the remaining portion plain. Using the picture as a guide, spoon the different cheesecake mixtures among six 80ml (1/3 cup) capacity plastic cups. 
Place chocolate in a microwave safe bowl and microwave on HIGH for 30 seconds until melted. 
For the spider cheesecake cups, scatter plain cheesecake cups with chocolate sprinkles to fill, then top with a chocolate covered Oreos. Cut the liquorice strap into 4cm pieces (you will only need three pieces). Cut along the lines on the piece to separate the strands. Place eight strands around the biscuit to form the spider's legs. Lightly press strands into the cheesecake mix to secure. Using some melted white chocolate as the glue, attach eyeball candies to the chocolate covered biscuits to form eyes.  Place in the fridge for 30 minutes to set. 
For the bat cheesecake cups, scatter orange coloured cheesecake cups with orange sprinkles to fill. Using a serrated knife, cut each large Oreo in half to form two wings. Using melted white chocolate as the glue and the image as a guide, attach the small Oreo to the two Oreo wings to form the bat's face.  Using the melted white chocolate, attach the eyeball candies to the small Oreos to form the bat's eyes. Set aside for 5 mins for chocolate to set. Top cheesecake cups with bats and place in the fridge for 30 minutes to set. 
For the ghost cheesecake cups, scatter green coloured cheesecake cups with green sprinkles to fill. 
Lightly dust a clean, dry surface with icing sugar. Knead fondant into a ball then roll out to 3mm thick. Using a round 6cm cutter, cut out 2 discs from icing. Working quickly, place each disc on top of each marshmallow and press down to form a ghost. Using melted white chocolate as glue, attached eyeball candies to ghost to form eyes. Top cheesecake cups with ghosts and place in the fridge for 30 minutes to set. 
Serve cheesecake cups 
Note:
Use a mixture of red and yellow food colouring to colour your cheesecake filling if you can't find orange food colouring.