Honey Jumbles
Prep: 20 mins
Cook: 15 mins
Servings: 40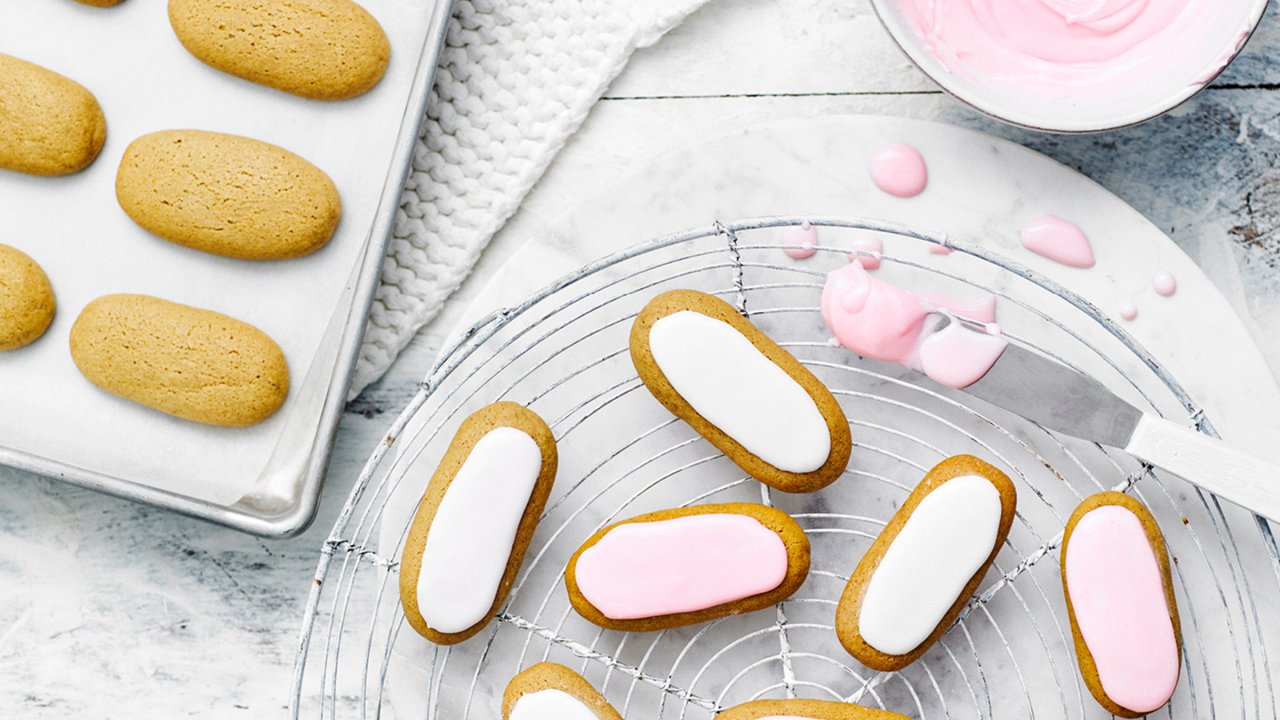 Honey Jumbles are a nostalgic favourite. The classic biscuits are known for their oval shape and white and pink icing. Bake up a batch of Honey Jumbles over the weekend and watch them disappear from the plate.
Ingredients
Biscuits:
60g (2oz) butter 
½ cup (110g) firmly packed CSR Brown Sugar 
¾ cup (270g) golden syrup 
1 egg, beaten lightly 
2½ cups (375g) White Wings Plain All-Purpose Flour 
½ cup (75g) White Wings Self Raising Flour 
½ teaspoon bicarbonate of soda (baking soda) 
2 teaspoons ground ginger 
2 teaspoons mixed spice 
Icing:
1 egg white
1½ cups (240g) CSR Icing Sugar 
1 tablespoon lemon juice, approximately 
pink food colouring
Method
Preheat oven to 160°C/325°F. Grease oven trays. 
Stir butter, sugar and syrup in a medium saucepan over low heat until sugar dissolves. Cool for 10 minutes. 
Transfer cooled mixture to a large bowl; stir in egg and sifted dry ingredients, in two batches. Knead dough on a floured surface until it loses its stickiness. Wrap in plastic wrap; refrigerate for 30 minutes.
Divide dough into eight portions. Roll each portion into a 2cm (¾in) thick sausage; cut each sausage into five 6cm (2½in) lengths. Place on trays about 3cm (1¼in) apart; round the ends with lightly floured fingers, then flatten biscuits slightly. 
Bake biscuits for 15 minutes or until browned lightly. Cool on trays. 
Make icing: Beat egg white lightly in a small bowl; gradually stir in sifted icing sugar, then enough juice to make icing spreadable. Place half the mixture in another small bowl; tint with pink colouring. Keep icings covered with a damp tea towel while in use. 
Spread cooled jumbles with pink and white icing
Tip: 
Spray your measuring spoon with a little cooking oil spray before scooping up the golden syrup; this will help prevent the syrup from sticking to the spoon. The difference between pure icing sugar and icing sugar (also known as icing sugar mixture), is cornflour (cornstarch) which is added to prevent the mixture hardening. You can use pure or icing sugar in this recipe.