Lemon Cakes with Roasted Strawberries
Prep: 35 mins (+ standing)
Cook: 25 mins
Servings: 8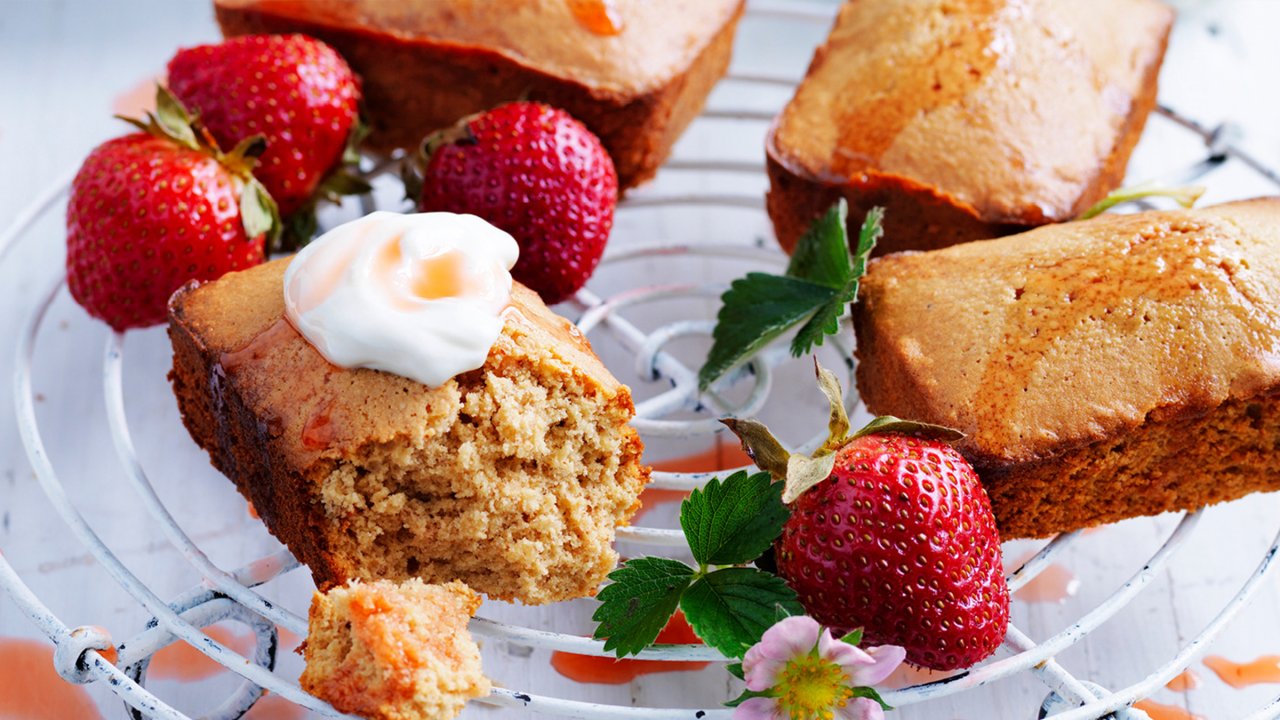 Best served warm with Greek style yoghurt and roasted strawberries, these little lemon cakes are a great dessert or a sweet snack.
Ingredients
​2⁄3 cup (110g) almonds 
​2⁄3 cup (100g) White Wings Wholemeal Plain Flour 
2 free-range eggs
1/3 cup (75g) CSR Caster Sugar (superfine) 
¼ cup (90g) rice malt syrup
3 teaspoons finely grated lemon rind 
2 tablespoons extra virgin olive oil 
2 tablespoons lemon juice 
½ teaspoon baking powder
Roasted Strawberries: 
500g (1 pound) strawberries, halved 
¼ cup (90g) honey 
1½ tablespoons lemon juice
Method
Preheat oven to 180°C/350°F. Grease an 8-hole (½-cup/125ml) loaf pan tray. Line base of pan holes with strips of baking paper, extending the paper 3cm (1¼ inches) over long sides.
Process nuts and 2 teaspoons of the flour until finely ground.
Beat eggs, sugar, syrup and rind in a small bowl with an electric mixer on medium-high speed for 10 minutes or until thick and pale. Reduce speed to low, gradually beat in oil and juice until just combined. Stir in nut mixture, then sifted remaining flour and baking powder; return any husks to bowl. Spoon mixture into holes.
Bake cakes for 25 minutes or until a skewer inserted in the centre comes out clean. Stand cakes in pans for 5 minutes, before turning top-side up onto a wire rack to cool.
Make roasted strawberries: Combine ingredients in a medium ovenproof dish. Roast, uncovered, for 10 minutes or until softened. Stir gently. Stand 5 minutes.
Serve cakes warm with roasted strawberries.
Serving Suggestion: 
Serve with Greek-style yoghurt.