Melted Snowmen Cookies
Prep: 1 hour
Cook: 1 hour
Servings: 15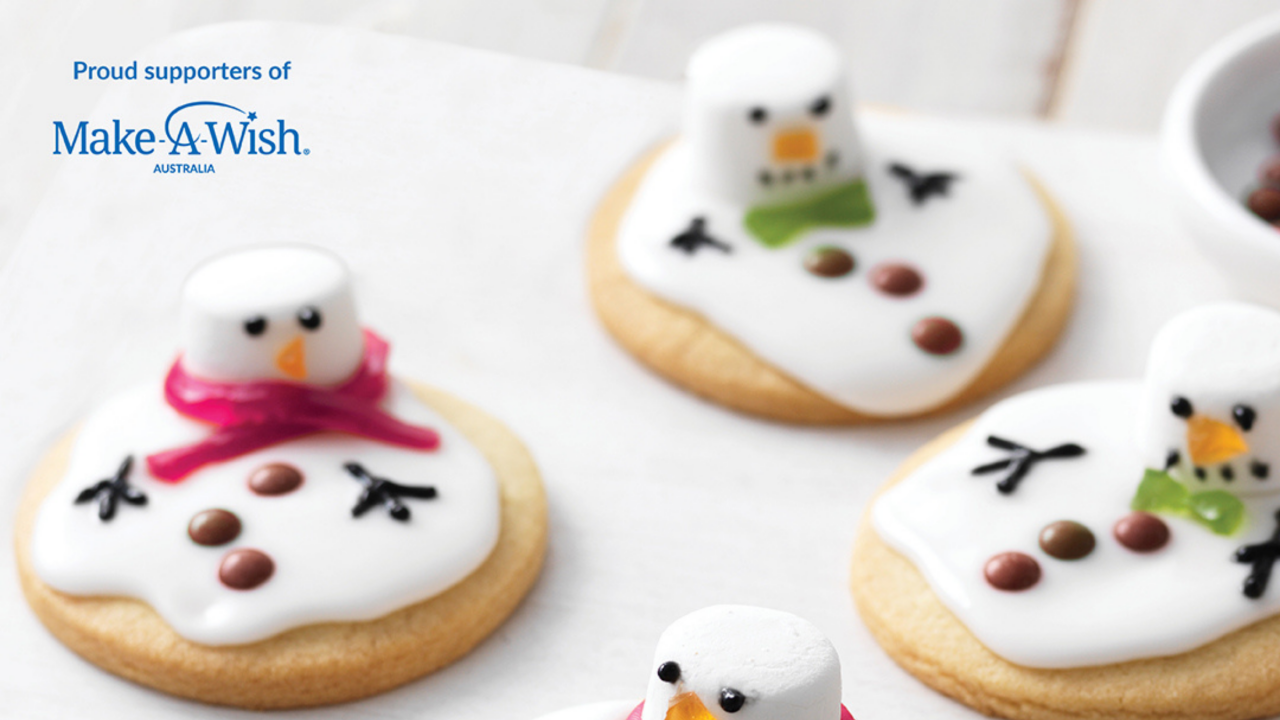 These Melting Snowman Cookies were inspired by a wish from Isla (4, neuroblastoma). Make-A-Wish® Australia support over 950 children on a Wish Journey right now.
Ingredients
2 ½ cups (355g) White Wings Plain Flour
½ tsp baking powder
½ tsp salt
¾ cup unsalted butter, at room temp
200g (1 cup) CSR Sugar
1 tsp (5ml) pure vanilla extract
1 (59g) egg
Icing:
To Decorate:
1 packet white marshmallows
1 packet snake lollies
1 packet small chocolate buttons
1 black edible food pen
Method
In large bowl, sift together flour, baking powder and salt. Whisk to blend and set aside.
In an electric mixer fitted with the paddle attachment, cream butter and sugar until fluffy and pale, about 5 minutes. Beat in vanilla bean paste. Beat in egg.
Add flour mixture and mix on low speed until thoroughly combined.
Divide dough into two equal parts. Flatten each portion into a disk and wrap well in plastic wrap. Chill for about 45 minutes.
Preheat your oven to 170 degrees conventional.
Remove one disk and unwrap. On a lightly floured work surface, roll the dough out to about 5cm thick. Cut out as many circles as you can using a 7cm round cutter. Place cut-outs on prepared baking trays, spacing them 3cm apart. Bake for 12-14 minutes, or until edges are golden brown. Transfer baking trays to a wire rack to cool.
To make the white icing, stir together icing sugar and 3 teaspoons of milk until smooth. Add up to 1 teaspoon more milk as needed to get a thick spreading consistency. Spread icing over large cooled cookies and press a marshmallow at the top of each cookie.
To start decorating your cookies, cut down the spine of the snake lolly to produce two long thinner pieces. Wrap each piece around the base of the marshmallows to form scarves.
Using an orange snake lolly, cut small triangles to form the Snowman's nose. Gentle spoon a small amount of icing sugar mixture to the base of the nose and fix to the middle of the marshmallow
Place three mini round coloured chocolate buttons running down the centre of the cooking to form buttons
Using the black food pen, style your snowman's face, and draw two arms.
Tip:
Roll dough between two sheets of baking paper for a non-stick, mess free surface