Mini Brûlée Cheesecake with Roast Rhubarb
Prep: 20 mins
Cook: 35 mins
Servings: 12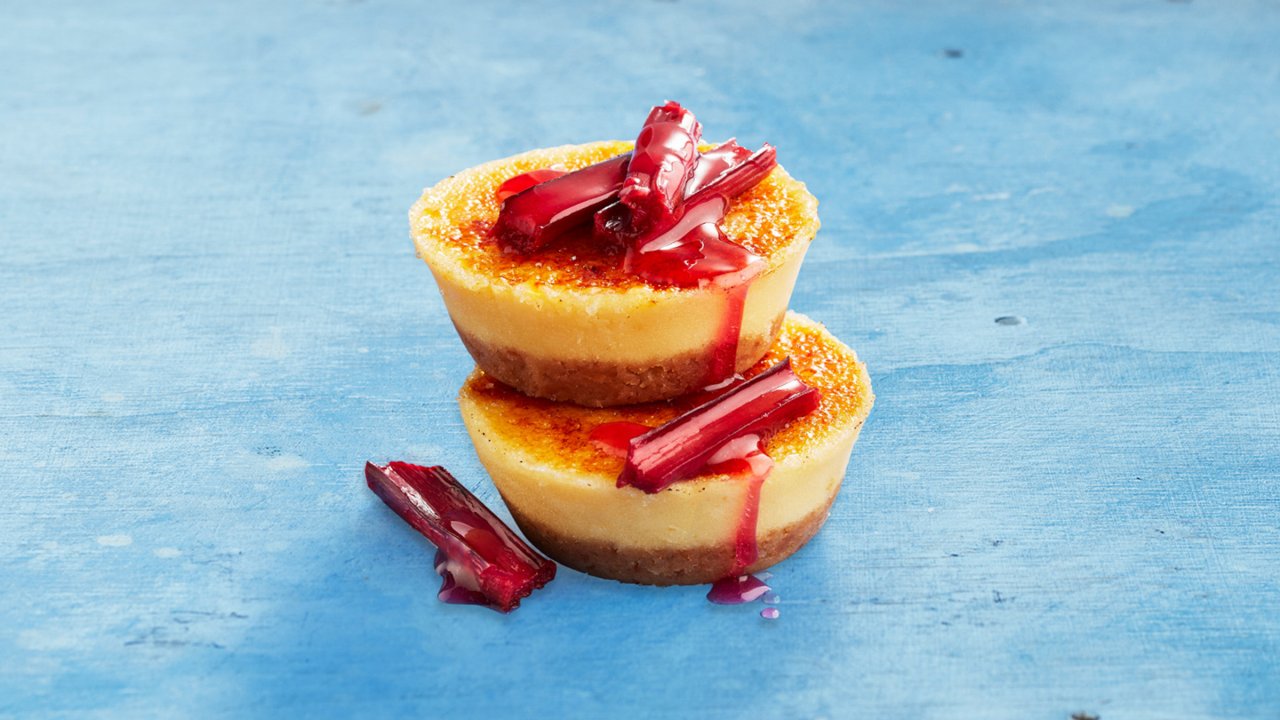 Ready in under an hour, try something a little special with your cheesecake by turning it into mini brulee cheesecakes served with roast rhubarb.
Ingredients
1 packet White Wings Crafted Baked Cheesecake Tart
70g unsalted buter, melted 
2 eggs 
125ml thickened cream 
190ml milk
2 tbs CSR caster sugar 
Roast Rhubarb: 
1 bunch rhubarb, trimmed 
110g (½ cup) CSR Caster Sugar 
Thinly peeled zest and juice of 1 orange 
Method
Preheat oven to 160°C conventional or 140°C, fan-forced. Lightly grease a 12-hole, ½ cup (125ml) capacity muffin pan. Prepare biscuit mixture as directed. Divide among the holes and press down firmly with the base of a glass. Refrigerate for 15 minutes to firm. 
Make the cheesecake filling as directed and pour over the biscuit bases. Gently tap the pan to remove any air bubbles and bake for 15-20 minutes until just set. Turn oven off and let cheesecakes cool in the oven for 40 mins with the door closed. Refrigerate for 1 hour or until cold. 
Heat oven to 200°C or 180°C, fan-forced. For roast rhubarb, line a large baking tray with baking paper. Cut the rhubarb into 6cm lengthways on an angle. Place rhubarb in a single layer on the prepared tray, scatter over the sugar, add the orange zest, juice and 2 tbs water and toss to combine. Roast for 12-15 mins until tender but still holds its shape.
Sprinkle cheesecakes with sugar and caramelise with a blow torch. Stand for 5 mins to crisp. Using a small spatula, carefully remove cheesecakes from the pan. Serve cheesecakes with roast rhubarb.