Raspberry Layered Cake
Prep: 1 hour 30 mins (+ standing)
Cook: 1 hr
Servings: 10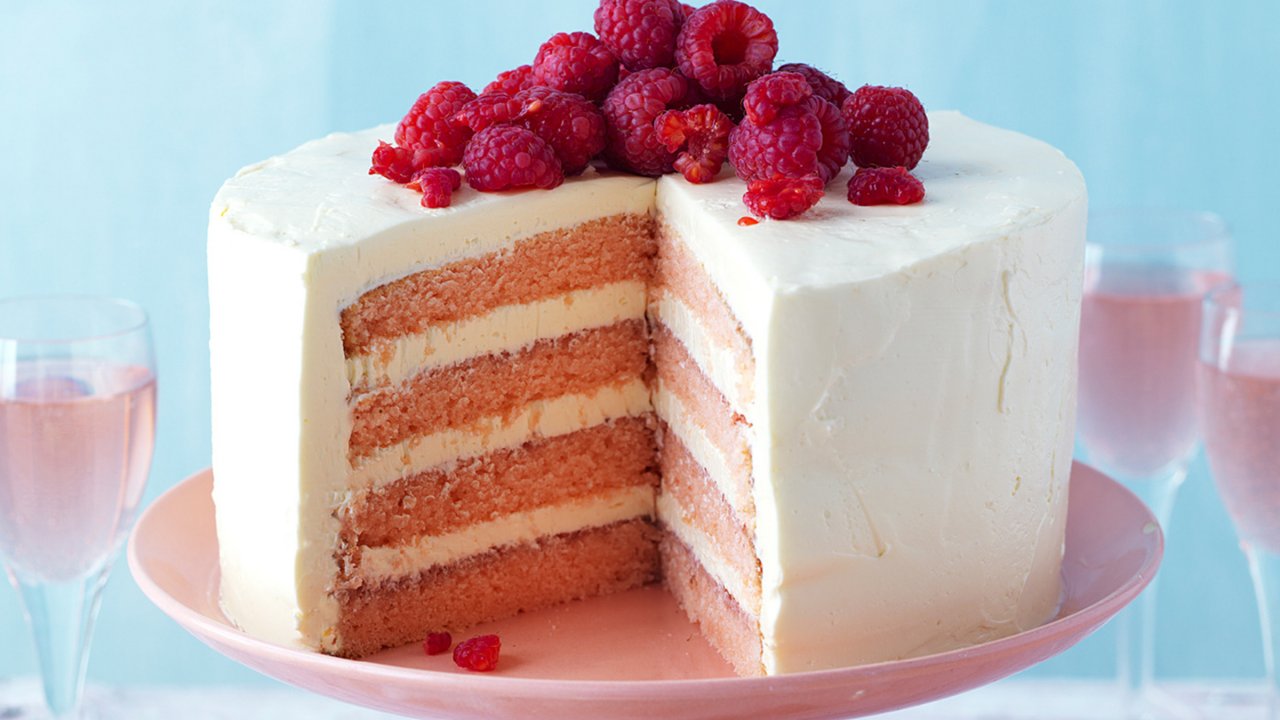 A fancy raspberry layered cake is sure to impress the masses, the preparation and decoration is all worth it to create this masterpiece!
Ingredients
Cake:
185g (6 ounces) white eating chocolate, chopped coarsely
90g (3 ounces) unsalted butter, chopped coarsely 
1 cup (250ml) buttermilk 
1¼ cups (275g) CSR Caster (superfine) Sugar 
3 eggs 1 tsp vanilla extract 
1 cup (150g) White Wings Plain (all-purpose) Flour 
½ cup (75g) White Wings Self-Raising Four 
½ tsp bicarbonate of soda (baking soda) 
Pink food colouring 
¼ cup (80g) raspberry jam, warmed, strained, cooled 
125g (4 ounces) fresh raspberries 
Fluffy Mock Cream Frosting: 
⅓ cup (80ml) milk 
⅔ cup (160ml) water 
2 cups (440g) CSR Caster (superfine) Sugar 
2 tsp gelatine 
⅓ cup (80ml) water, extra 
500g (1 pound) unsalted butter, softened 
2 tsp vanilla extract
Method
Preheat oven to 150°C/300°F. Grease two 17cm (6¾-inch) round cake pans; line bases and sides with baking paper, extending the paper 5cm (2 inches) above sides. 
Stir chocolate, butter and buttermilk in a medium saucepan over low heat until smooth. Transfer to a large bowl; cool 10 minutes. 
Whisk sugar, eggs and extract into chocolate mixture. Whisk in sifted dry ingredients until mixture is smooth and glossy; tint light pink with a few drops of food colouring. Divide mixture evenly into pans. 
Bake cakes for 1 hour. Stand cakes in pans for 5 minutes before turning, top-side up, onto wire racks to cool. 
Make fluffy mock cream frosting: Stir milk, the water and sugar in a medium saucepan over heat, without boiling, until sugar dissolves. Sprinkle gelatine over the extra water in a cup, add to pan; stir syrup until gelatine is dissolved. Cool to room temperature. Beat butter and extract in a medium bowl with an electric mixer until as white as possible. With motor operating, gradually pour in cold syrup in a thin, steady stream; beat until light and fluffy. The mixture will thicken on standing.
Split cold cakes in half; brush layers with jam, then sandwich with mock cream. Spread cake all over with remaining frosting. Top with berries.
Tip: 
The cake can be baked two days ahead; store in an airtight container (or baked then frozen for up to three months). Fill and decorate the cake on the day of serving.