Salted Caramel Gingerbread Pavlova
Prep: 30 mins
Cook: 90 mins
Servings: 8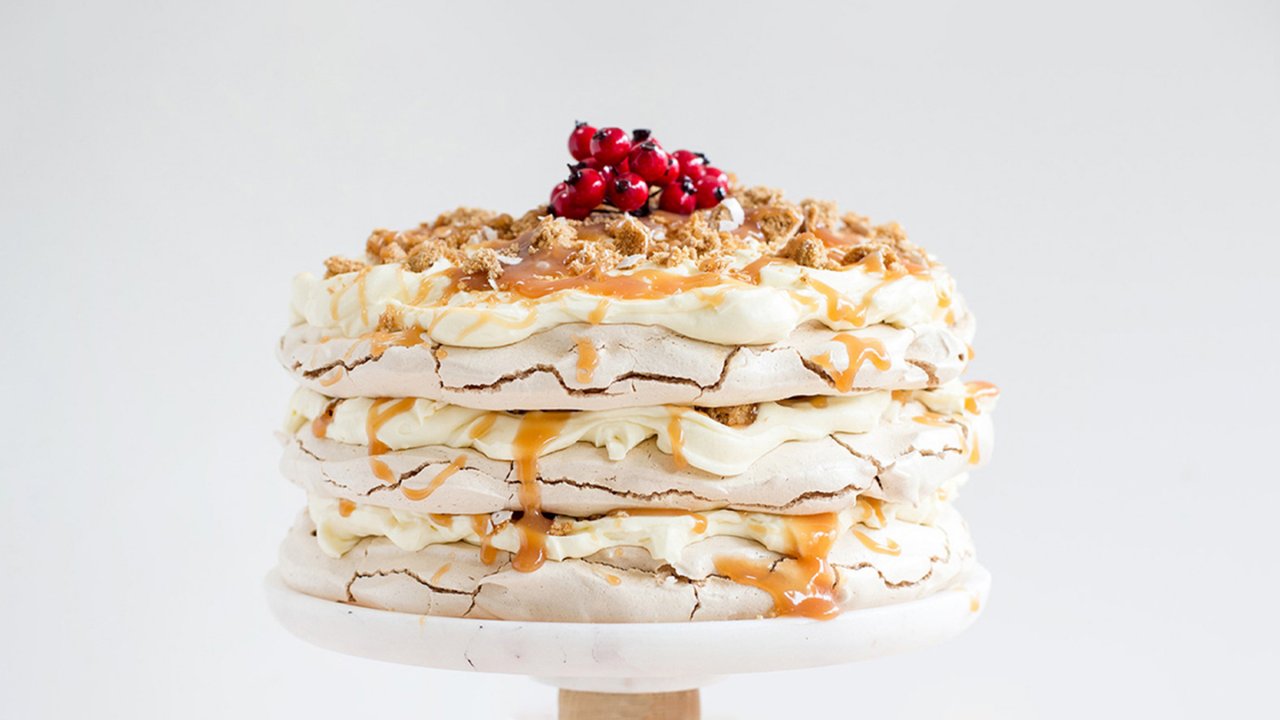 This Salted Caramel Gingerbread Pavlova collaboration with Love Swah is a Christmas masterpiece. It combines a brown sugar pavlova that tastes just like gingerbread, layered with whipped cream cheese and drizzled in salted caramel sauce.
Ingredients
Spiced Brown Sugar Pavlova:
1 cup CSR Caster Sugar
½ cup CSR Brown Sugar
1½ tbsp White Wings Cornflour
1½ tsp white vinegar
½ tsp ground ginger
½ tsp cinnamon
¼ tsp cloves
¼ tsp cardamom
Salted Caramel:
Whipped Cream Cheese:
250g cream cheese
250ml thickened cream
¼ cup CSR Caster Sugar
Crushed gingerbread biscuits (Pfeffernüsse)
Method
Preheat oven to 150°C fan-forced. Line 2 baking trays with baking paper.
Using an electric mixer, beat egg-whites until soft peaks form. Gradually add caster and brown sugar, beating well until the mixture is glossy and sugar has dissolved. Add cornflour, vinegar and spices and beat until well combined.
Spoon mixture into 3 x 18-20cm circles. Using a palette knife, shape into a circle. Place in the oven, reduce the heat to 120°C. Cook for 1 hour and 20 mins.
Turn oven off and allow meringues to completely cool in the oven.
For the salted caramel, dissolve sugar and water in a heavy-bottom saucepan over a medium heat. After approx. 5-10 mins, mixture should turn caramel colour. DON'T stir the caramel mixture.
Once the caramel is golden, take it off the heat and add the salt and cream. Whisk until combined.
For the whipped cream cheese, whip the cream until stiff peaks form. Set aside.
In another bowl combine cream cheese and icing sugar. Beat until smooth. Fold in whipped cream and gently combine.
To assemble, gently transfer first layer of pavlova to a cake stand. Spread 1/3 of the whipped cream cheese over the top, followed by a scattering of crumbled gingerbread, and a generous drizzle of the salted caramel.
Carefully put on the next layer of pavlova and repeat until you have three layers.
Short on time? Try using White Wings Pavlova Magic