Sweet Potato & Corn Fritters with Chunky Avocado
Prep: 15 mins
Cook: 25-30 mins
Servings: 24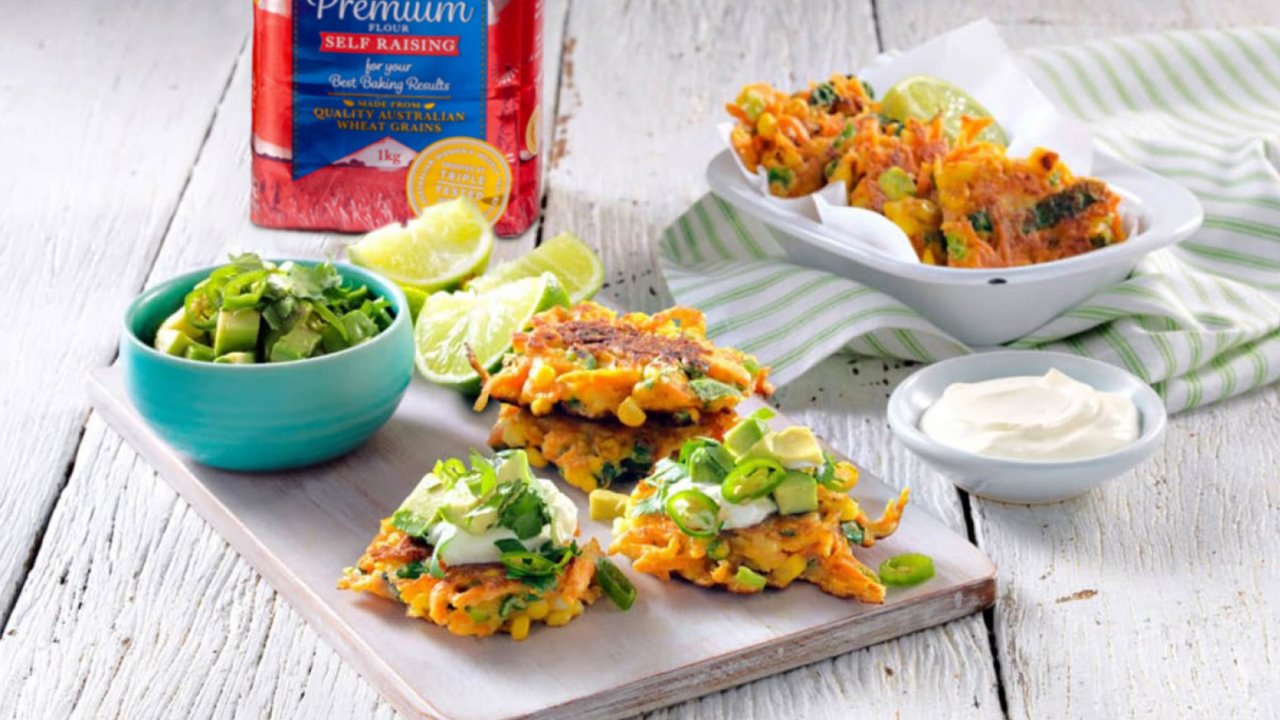 Finger food ready in under 45 minutes! These sweet potato & corn fritters will fast become a family favourite, serve with avocado, sour cream, coriander and chilli slices.
Ingredients
2 cups (approx. 200g) grated sweet potato
2 cobs corn, kernels removed (approx.1 cup)
125g White Wings Self Raising Flour
4 spring onions, finely sliced
¼ cup basil leaves, chopped
1 clove garlic, finely diced
3 extra large eggs, lightly beaten
¼ cup milk
Freshly ground black pepper & salt flakes
1 tbsp olive oil
Chunky avocado:
1 ripe avocado
½ green chilli, sliced, seeds removed
2 tbsp coriander leaves, chopped
1 tbsp lime juice
1 tbsp olive oil
Sour cream, additional coriander leaves and chilli, for serving
Method
Combine sweet potato, corn kernels, flour, spring onion, basil and garlic in a large mixing bowl.
Whisk together the eggs and milk and add to sweet potato mixture with seasonings. Mixing until well combined.
Heat a frying pan over medium heat with a little of the oil. Add tablespoon measures of batter to pan and cook for 3-4 minutes each side until golden. Turn and cook a further 1-2 minutes. Remove to a paper towel lined plate and cover to keep warm. Repeat process with remaining batter and oil.
For the avocado, mash half of the avocado and finely dice the other half. Combine with the green chilli, coriander, lime and oil. Season to taste and refrigerate until required.
Serve fritters individually or as a stack, with avocado, sour cream, coriander and chilli slices. Add a drizzle of hot chilli sauce if desired.