Tiramisu Cruffins
Prep: 60 mins
Cook: 25 mins
Servings: 12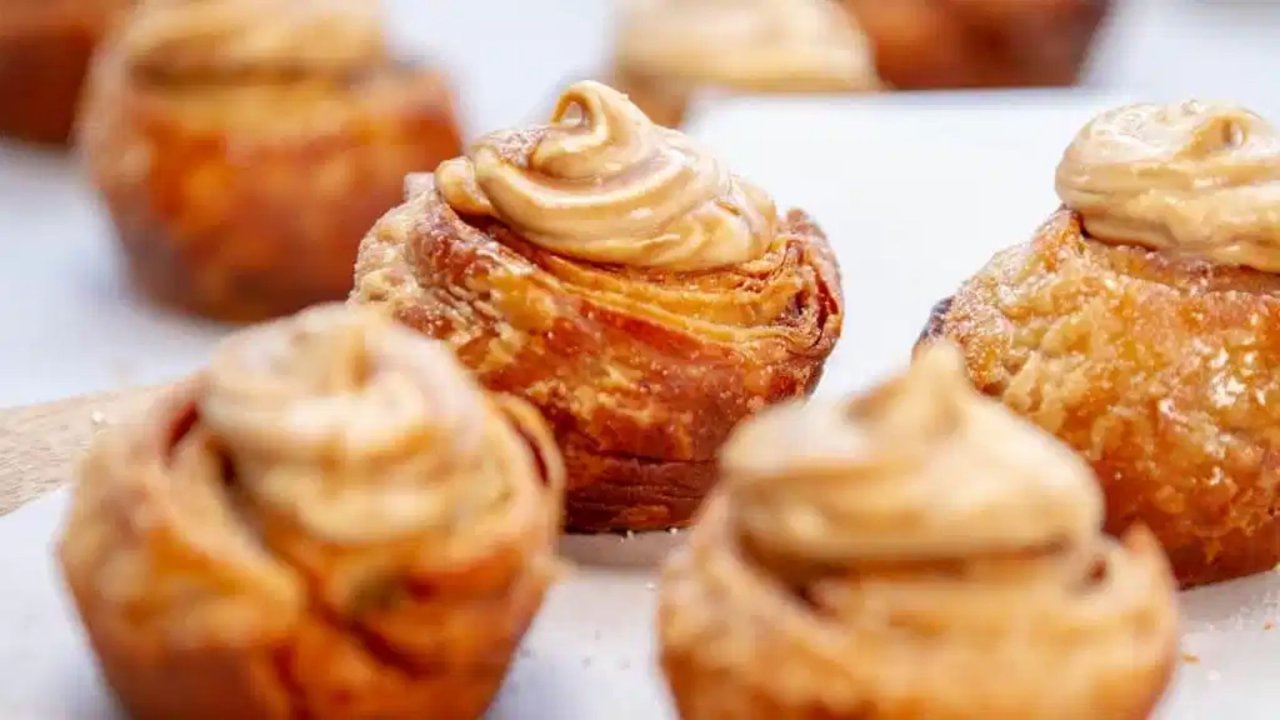 A croissant-muffin hybrid, these Tiramisu Cruffins with flaky pastry, chocolate filling and a creamy coffee mascarpone topping are extremely delicious. The perfect weekend baking project.
Inspired by the classic Italian dessert, these tiramisu cruffins have a deep caramel flavour inthe chocolate filling.
Ingredients
Dough:
2 tsp dried yeast
150ml lukewarm water
150ml cold water
2 tsp lemon juice
450g White Wings Plain Flour, plus extra for rolling out
50g CSR Raw Caster Sugar
1 tsp fine salt
280g unsalted butter, chilled & chopped in 1cm cubes
Chocolate Filling:
75g butter, softened
3 tbsp cocoa powder
100g CSR Dark Brown Sugar
50g CSR Golden Syrup
Coffee Mascarpone Cream:
250g mascarpone
1 tsp vanilla essence
4 tbsp CSR Pure Icing Sugar, sifted, plus extra to dust
2 tsp instant coffee granules
Method
Preheat oven to 170°C and a lightly butter a 12-hole muffin pan.
In a small bowl, add the yeast to the lukewarm water, stir until dissolved. then in another small bowl, add the lemon juice to the cold water.
In a large bowl, mix together the flour, CSR Raw Caster Sugar and salt. Toss in the cubes of chilled butter. Add the yeast and lemon waters into the bowl, mixing quickly with a large metal spoon.
Turn onto a floured work surface and knead lightly with clean hands. Shape into a loose rectangle, wrap in cling film and chill in the freezer for 15 mins.
Flour the work surface and roll the pastry into a long even rectangle about 45 x 15 cm.
Fold the pastry in thirds, one end over the other. Press down the loose ends, turn it over, roll out again and fold in 3, repeat another 3 times. You should end up with a smooth dough with thick streaks of butter. Wrap and chill for at least 1 hour.
Prepare the chocolate filling by stirring together the cocoa powder, CSR Dark Brown Sugar and butter, to make a smooth thick paste. Cover until ready to use.
Return the dough to a floured board, cut in 4. Cover and return 3 quarters to the fridge.
Roll the first quarter into a thin 30 x 40cm rectangle. Cut into three 10 x 40cm strips. Spread each strip lightly with the chocolate filling and fold in half length-ways, roll into a tight spiral. Place each cruffin with cut edges upward in and repeat with the remaining 2 strips of pastry.
Roll out the remaining chilled dough, one section at a time and repeat filling and rolling to make 12 cruffins. Cover with a clean tea towel and place in a warm (not hot) space for about 2 hours or until they have doubled in size.
Bake for 20-25 mins until risen, flaky and golden brown. While still warm use a large wooden spoon handle and gently press down the centre of the cruffin (about halfway down) to make room for the mascarpone. Brush with warmed CSR Golden Syrup to glaze then allow to cool.
In a small bowl, add 2 teaspoons of boiling water to the coffee granules and dissolve fully.
In a separate medium bowl, add the mascarpone, vanilla and icing sugar, mix well. Loosely swirl through the dissolved coffee so you have a ripple effect. Transfer to a piping bag with a wide nozzle, place the nozzle deeply in each cruffin to pipe a generous amount of coffee cream into each one.
Serve immediately or chill until required
Tip:
Allow one hour and 15 mins resting time and 2 hours proving time for this recipe.