Vanilla Slice with Passionfruit Icing
Prep: 35 mins
Cook: 25 mins
Servings: 16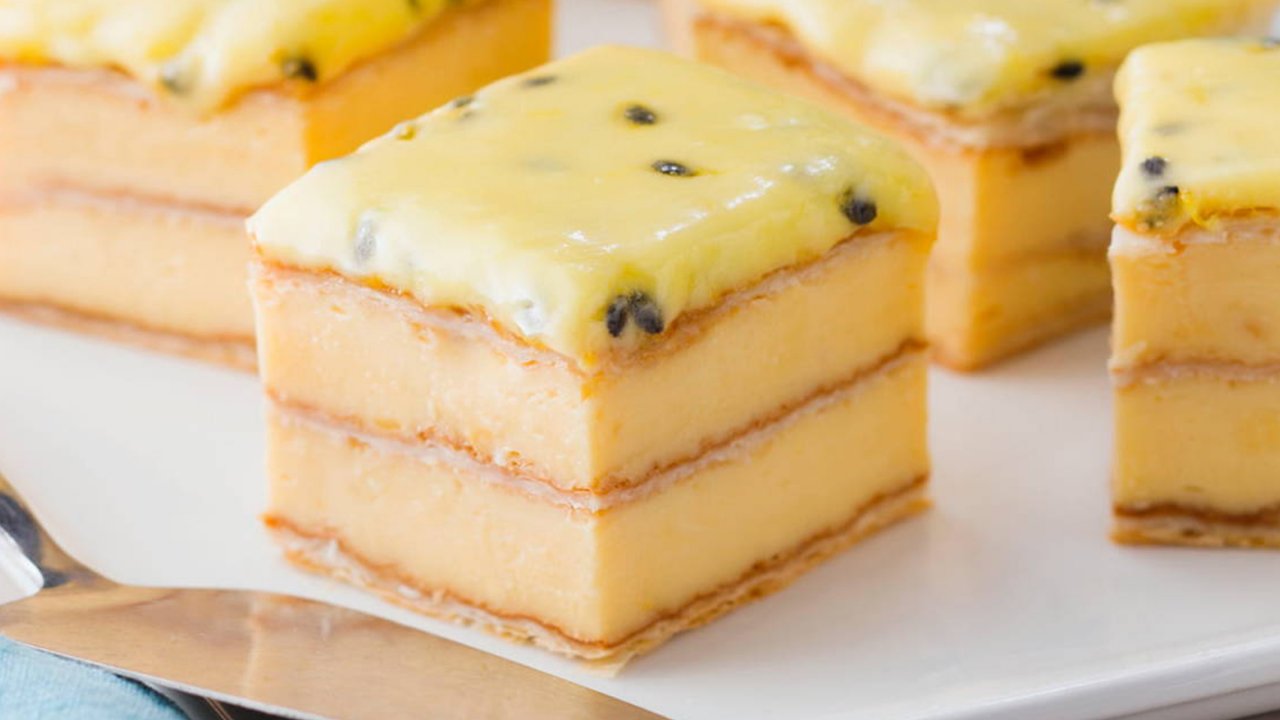 A much loved favourite by all - be the best in the baking game with the ultimate Vanilla Slice spread with Passionfruit Icing.
Ingredients
3 sheets Pampas Frozen Puff Pastry
½ cup White Wings Cornflour
1/3 cup White Wings Vanilla Bean Custard Mix
1 cup CSR Caster sugar
2 cups milk
600ml thickened cream
3 tbsp vanilla extract
50g chopped butter at room temperature
4 egg yolks
2 ½ cups CSR Pure Icing Sugar sifted
1 tbsp butter softened
1/3 cup passion fruit pulp (approx. 5 passionfruit)
Method
Preheat oven to 200°C (180°C fan- forced). Line a 23cm square cake pan with 2 x 23cm wide rectangular pieces of baking paper, ensuring that the paper extends 5cm above the rim (this will make it easy to lift out the slice).
Line three baking trays with baking paper. Place a pastry sheet on each tray. Bake 15 minutes, or until golden brown. Allow to cool for 10 minutes, then gently flatten the pastry with your hands. Set pastry sheets aside to cool. Once cool, place one sheet on base of the lined pan.
Prepare the Vanilla Bean Custard Mix as per instructions on pack.
Place Cornflour, Vanilla Bean Custard Mix and Caster Sugar in a saucepan and stir to mix. Gradually add the milk, stirring continuously. Add cream and vanilla whisk to combine. Add butter. Place over a medium/high heat and whisk continuously until very thick and simmering. You will need to whisk vigorously as the mixture thickens. Reduce heat and whisk vigorously for 1 minute longer. Remove from heat and add egg yolks. Whisk briskly until smooth. Immediately pour half the mixture into pastry lined pan. Smooth top, then place your second pastry sheet to create the middle layer, pour remaining mixture on top. Place your remaining pastry sheet on top of custard and press down gently.
Make icing. Place icing sugar in a large bowl. Add butter and passionfruit pulp and stir well to combine. Spread over top of slice. Refrigerate for 3 hours or overnight. Remove from pan and cut into squares.