White Choc Hot Cross Buns with Salted Vanilla Caramel by Anna Polyviou
Prep: 1 hour 45 mins
Cook: 20 mins
Servings: 30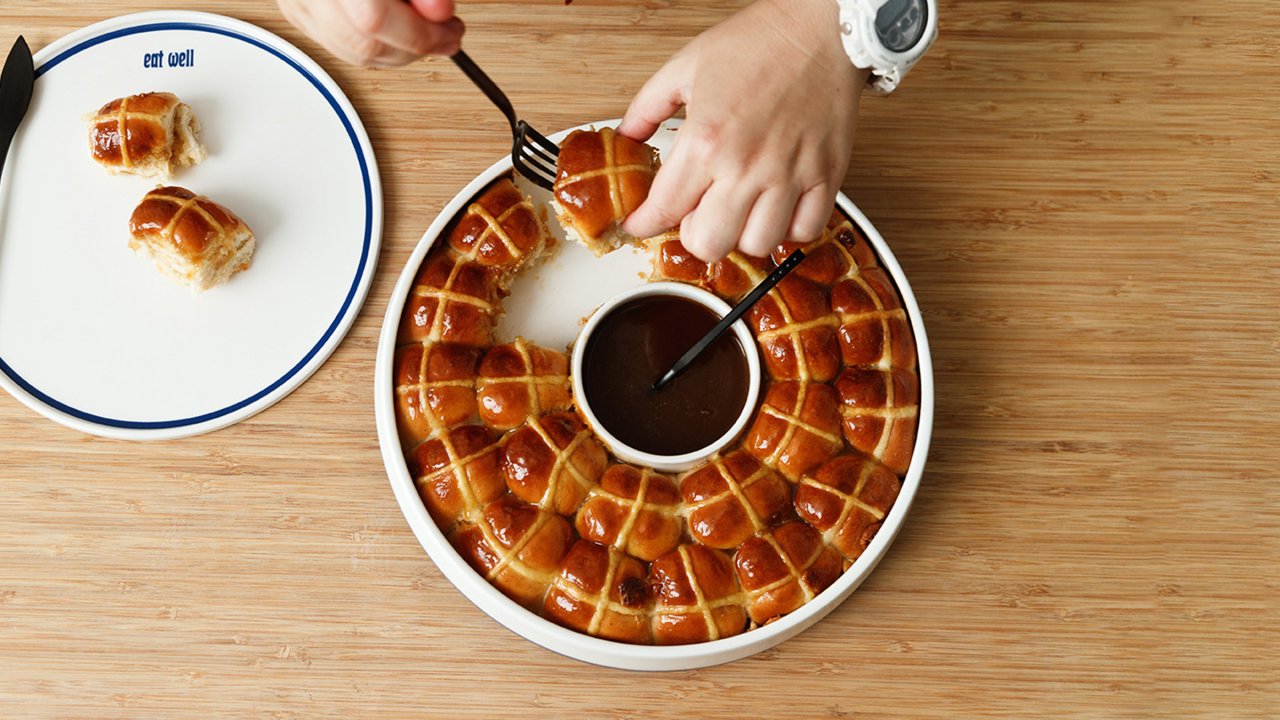 We just can't. get. enough. of these CARAMEL HOT CROSS BUNS! Get stuck into these sticky, glazed hot cross buns and dip them into caramel sauce for a truly sweet treat this Easter, thanks to Anna Polyviou!
Ingredients
Dough:
220ml milk, 120ml warmed, 100ml at room temperature 
12g dried instant yeast 
400g White Wings Plain Flour 
40g CSR Caster Sugar 
10g ground cinnamon 
100ml water, at room temperature 
40g butter, melted 
120g white chocolate buttons 
Cross:
45g White Wings Plain Flour
20ml olive oil 
40ml water 
Salted Vanilla Caramel Glaze:
160ml thickened cream 
50g unsalted butter 
50g CSR Brown Sugar 
½ vanilla pod, seeds scraped 
Pinch of sea salt 
Method
For the dough, place 120mL warm milk and the dried yeast in a small bowl or jug and whisk together. Set aside for 5-10 minutes until frothy. 
Place flour, caster sugar, cinnamon, remaining 100mL room temperature milk, water and butter in an electric mixer with the dough hook. Add the yeast mixture and knead on medium speed for 5 minutes or until completely combined and smooth, then add the white chocolate buttons and knead to combine. 
Turn dough onto a lightly floured bench and roll into a ball. Transfer to a bowl, cover with plastic wrap and set aside in a warm place for 1 hour or until doubled in size. 
Lightly spray a 31cm round ovenproof dish with baking spray. Place a smaller round ovenproof dish in the centre. Set aside. 
Once the dough has risen, knead on a lightly floured surface and divide into 30 balls (each ball will be about 30g). Arrange dough balls in two concentric circles in the prepared dish, and set aside to prove for a further 30-45 minutes. 
Preheat the oven to 185°C. 
To make the crosses, combine all ingredients in a small bowl and whisk until a smooth paste. Transfer mixture to a piping bag with a plain nozzle and pipe crosses over each of the proved buns. 
Place hot cross buns in the oven and bake for 20 minutes or until golden. 
Meanwhile, to make the salted vanilla caramel glaze, combine all ingredients in a small saucepan over medium heat and stir to dissolve the sugars. Bring the mixture to a simmer and cook for 2 minutes or until slightly thickened. Set aside. 
Remove hot cross buns from the oven and, while hot, brush with the warm glaze. Pour extra glaze into the small centre dish and serve.