White Wings Chocolate Cake
Prep: 30 mins
Cook: 60 mins
Servings: 12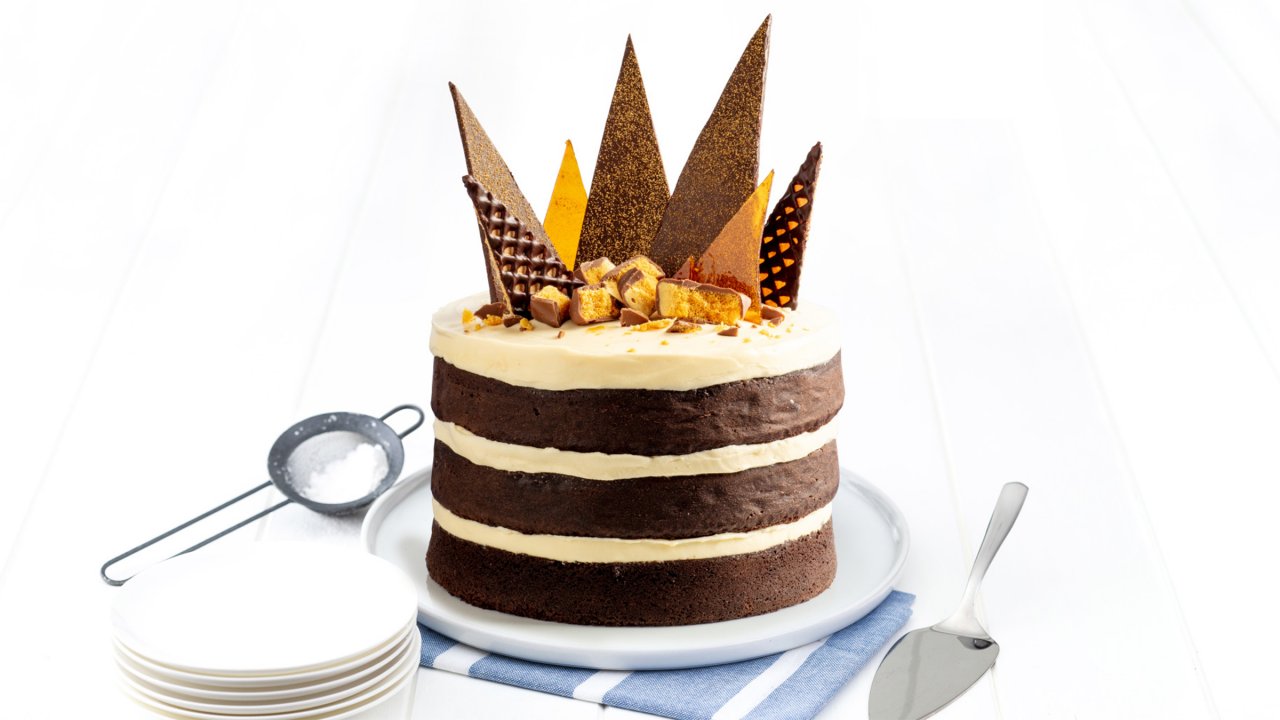 It may look fancy, but follow this recipe and you too can bake the perfect chocolate cake.
Layered with rich chocolate cake and cream cheese frosting, and topped with chocolate triangles, toffee shards and chocolate wafers, this is one seriously impressive dessert.
Ingredients
Chocolate Cake Layers:
3 packs of White Wings Rich Chocolate Cake Mix
6 eggs
120g (9 tbsp) soft butter or MeadowLea
525ml (2 & ¼ cups) water
Cream Cheese Frosting:
Chocolate Triangles:
200g dark cooking chocolate 
1 teaspoon vegetable oil (this helps you to cut chocolate without cracking)
2 teaspoons edible gold powder 
Toffee Shards:
Chocolate Wafers: 
2 vanilla wafers 
80g dark cooking chocolate, melted 
1 Crunchie bar chopped into chunks 
Method
Preheat oven to 160°C (140°C fan forced).
Place Rich Chocolate Cake mix, eggs, butter and water into a large mixing bowl. Whisk with a hand mixer or whisk until lump free.
Divide mixture evenly between 3 greased and paper lined round springform cake tins (20cm). Bake for 60 minutes or until a skewer inserted into the centre comes out clean. Leave in tin for 10 minutes before releasing and cooling on a rack.
Using electric mixer, beat butter and sugar in a large bowl until pale and fluffy add the cream cheese and beat for another 2-3 minutes or until combined and smooth.
Once cooled cut each cake so they are 3cm deep.
Place one layer of cake onto a serving platter and top with ¼ of the frosting spreading evenly to the edges of the cake.
Repeat with remaining cake layers and icing finishing with a layer of icing on the top.
To make the chocolate triangles: place the chocolate and oil in a heat proof bowl over a pot of simmering water until chocolate has melted. Stir until combined and chocolate is smooth. Pour onto a baking tray lined with baking paper and sprinkle with edible gold powder and refrigerate until set. Using a hot knife cut chocolate into triangles and return to the fridge until ready to use.
To make the toffee shards: place the sugar and water in a saucepan over a low heat and cook stirring until sugar has dissolved. Increase heat to high and bring to the boil. Cook not stirring for 8-10 minutes or until mixture turns golden. Pour onto a baking tray lined with baking paper and set aside until set. Using the tip of a knife crack toffee into shards.
To make the chocolate wafers. Cut each wafer in half diagonally to make a triangle. Brush one side of each wafer with chocolate and set aside to set.
Decorate:
Carefully insert chocolate triangles, wafers and toffee shards into the top of the cake and sprinkle over Crunchie pieces to serve.