Zucchini & Cherry Tomato Frittata Slice
Prep: 15 mins
Cook: 25-30 mins
Servings: 16 squares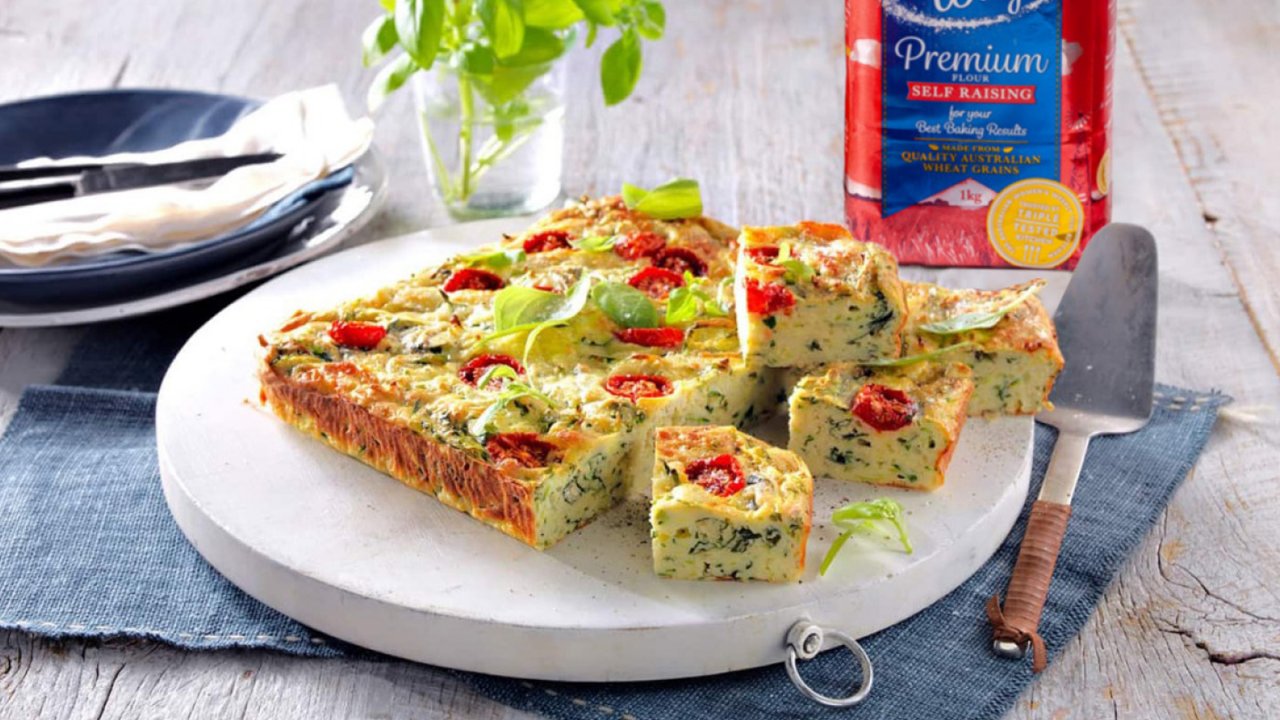 A super versatile dish, the Zucchini and Cherry Tomato Frittata Slice can be served warm for lunch or dinner, or can even be packed in lunchboxes to be eaten chilled.
Ingredients
6 extra large eggs
¼ cup sunflower oil
2 cups grated zucchini
1 cup White Wings Self Raising Flour
½ small red onion, finely grated
½ cup grated cheese
150g fresh ricotta, crumbled
½ cup basil leaves, chopped
Freshly ground black pepper & salt flakes
4-5 cherry tomatoes, halved
Additional basil leaves, for decoration
Method
Pre-heat oven to 180°C (160°C fan-forced). Line a 22 x 22 cm, 4 cm deep baking tray with baking paper.
Combine eggs and oil in a large mixing bowl. Whisk well. Stir in the zucchini, flour, onion, grated cheese, ricotta and basil. Mix until well combined and season.
Pour mixture into prepared tray and arrange tomato halves over the top. Sprinkle with some additional small basil leaves and bake for 35-40 minutes until golden and cooked through. Serve warm or chilled.
Tips:
Frittata can be served warm or pack chilled into lunchboxes.
Sprinkle some toasted pinenuts over the top prior to baking, or add in some crumbled feta.