Lamington Pavlova
Prep: 2 hours 30 mins
Cook: 1 hour 15 mins
Servings: 12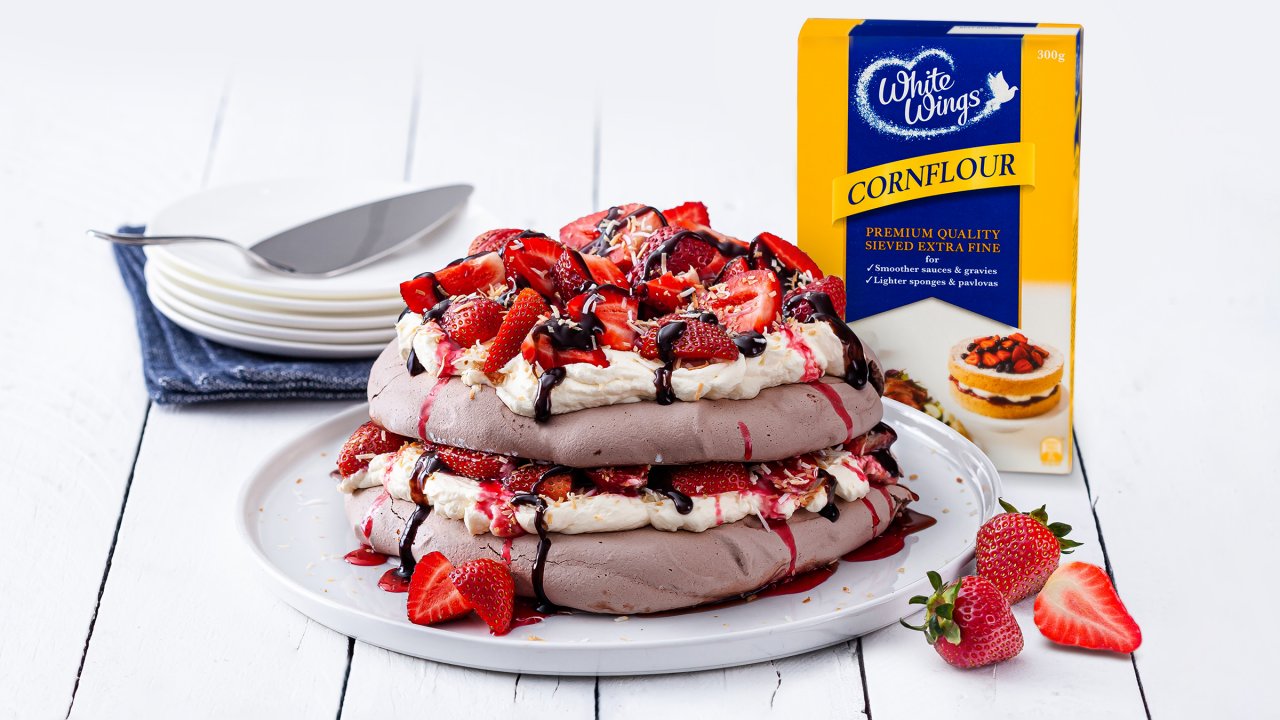 Two Aussie favourites come alive in the Lamington Pavlova!
Shake it up with a chocolate pavlova, coated in coconut, cream and strawberries to create the perfect blend of desserts.
Ingredients
Chocolate Pavlova:
2 tsp White Wings Cornflour
360g CSR Caster Sugar
6 egg whites
1 ½ tsp white wine vinegar
3 tsp cocoa powder
Toppings:
600ml thickened cream, whipped
1 cup shaved coconut, toasted
400g fresh strawberries, halved
Strawberry sauce
Chocolate sauce
Method
Preheat oven to 150°C (130°C fan-forced). Cut 2 x 20cm circles from baking paper.
Using electric beaters, whisk the egg whites until stiff peaks form. Reduce speed and add caster sugar 1 tbsp at a time, then add cornflour, vinegar and cocoa powder. Remove mixing bowl from beater.
Spoon half of the chocolate meringue into centre of each paper circle and shape to edges of circle, flattening the tops.
Place both trays in oven and reduce heat to 120°C (100°C fan-forced).
Bake for 1 hour 15 minutes.
Turn off oven. Keeping the door closed, let pavlova rounds cool to room temperature in oven.
Place one pavlova round on cake stand and top with half of the whipped cream, half of the strawberries and half the toasted coconut.
Place second round on top and add remaining whipped cream, strawberries and coconut. Drizzle with strawberry sauce and chocolate sauce.
Baking hack:
Pressed for time? Save time on the pavlova base by using White Wings Pavlova Magic - made as per pack instructions to create your delicious pavlova base.