Mini Choc Pavlovas with Choc Mousse and Berries
Prep: 35 mins, plus cooling overnight
Cook: 1 hour 10 mins
Servings: 8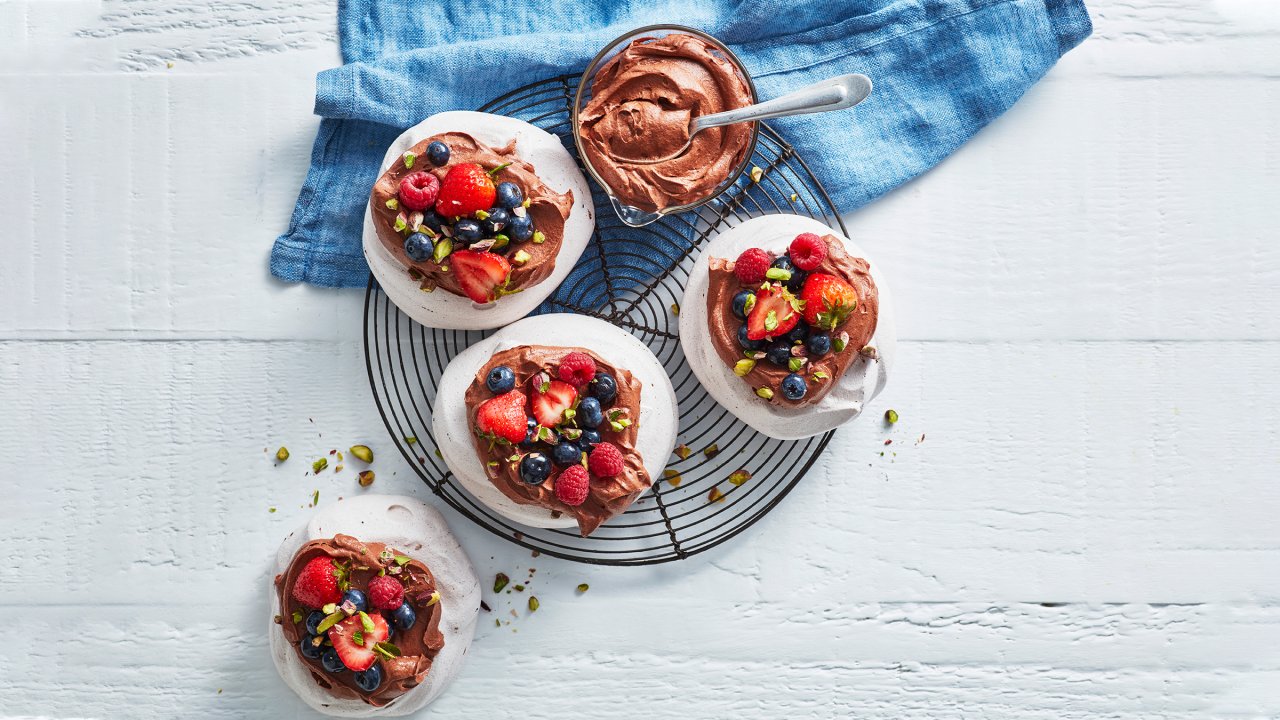 A monumental mousse x meringue crossover! Whip up a batch of mini pavlovas using the Pav Magic Mix, spoon on chocolate mousse and finish with berries and pistachios.
Ingredients
1 packet White Wings Pav Magic Mix 
130g CSR Caster Sugar 
140ml water 
1 tbsp cocoa, sifted 
1 packet White Wings Choc Mousse Filling Mix 
310ml cold milk
Chopped pistachios, to serve 
Macerated Berries:
125g (½ punnet) strawberries, thinly sliced 
125g (1 punnet) blueberries 
2 tbsp freshly squeezed orange juice 
2 tsp CSR caster sugar 
125g (1 punnet) raspberries 
Method
Trace eight 9cm diameter circles on two pieces of baking paper. Place paper pencil-side down on lightly greased baking trays. Prepare pav magic mix as directed. Fold through cocoa. Divide the meringue among templates, using the back of spoon to create peaks and swirls. 
Bake for 1 hour 10 minutes or until dry to the touch. Turn off the oven and let cool completely, about 6 hours or overnight.
For macerated berries, place strawberries, blueberries, juice and sugar in a bowl and toss to combine. Set aside for 20 minutes until sugar dissolves.  Stir through the raspberries just before serving. 
Prepare choc mousse filling mixture as directed.
To serve, place meringues on plates, spoon over choc mousse and top with berries and pistachios.