Pavlova with Figs & Salted Caramel Drizzle
Prep: 30 mins
Cook: 1 hour
Servings: 6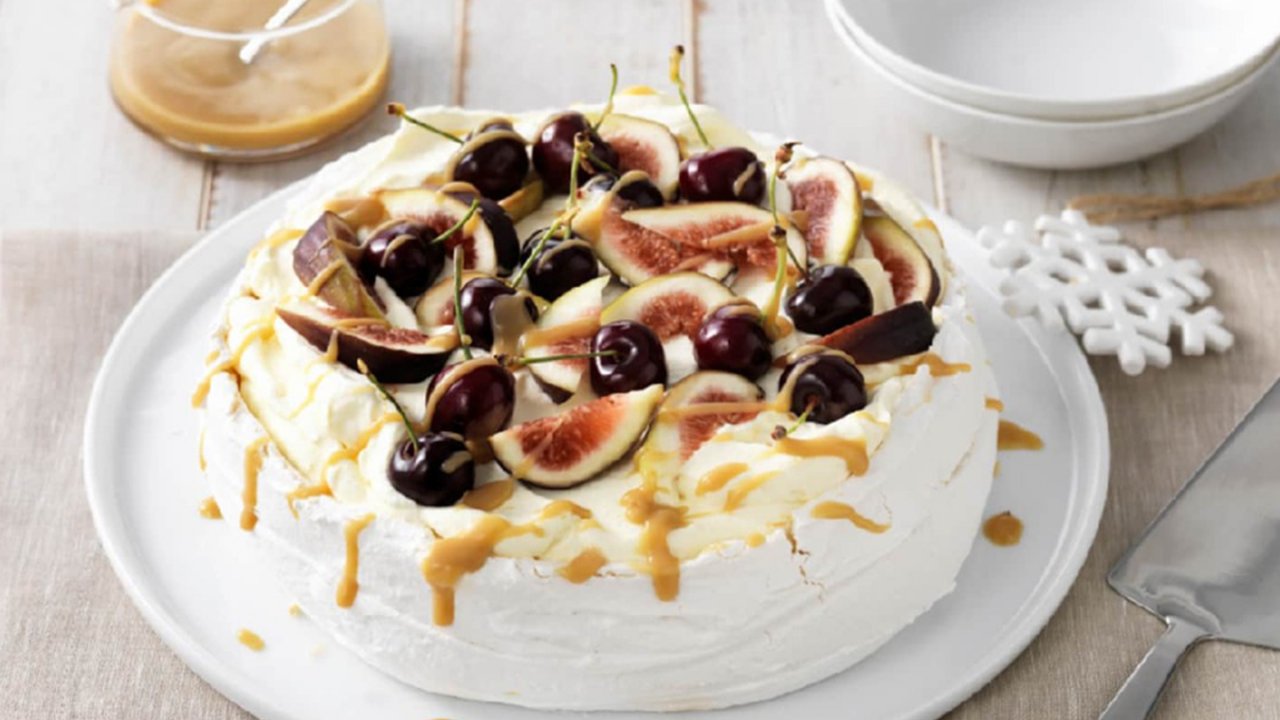 It's the pavlova topping you did not know you needed. Figs and caramel sauce pair perfectly atop a pav, giving a tasty sensation as soon as it touches your tongue!
Ingredients
Pavlova: 
Caramel sauce:
1 tsp White Wings Cornflour
¼ cup water
1/3 cup thickened cream
⅔ cup firmly packed brown sugar
50g butter
1 tsp vanilla extract
½ tsp sea salt flakes
Orange Cream:
300ml thickened cream
2 tsp finely grated orange zest
To Serve:
2 small fresh figs, quartered
½ punnet cherries
Coarsely chopped roasted hazelnuts
Method
Preheat oven to 170°C. Line an oven tray with baking paper.
To make Pavlova: Place 140ml lukewarm water into a large mixing bowl. Carefully add Pavlova Magic Mix. Beat with an electric mixer on a low speed for 15 seconds. Increase the speed to high and beat for 4-7 minutes or until very thick and glossy. Combine sugars and add to pavlova mixture. Beat on high speed for 1 minute longer.
Pile mixture onto prepared oven tray in a high dome shape. Using a sharp knife, create 2 or 3 grooves around the pavlova before cooking. Place in the centre shelf of the oven and reduce temperature to 120°C. Bake for 1 hour, then turn oven off and allow pavlova to cool in the oven. Do not open the oven door during baking or cooling.
To make salted caramel sauce: Place cornflour in a saucepan. Gradually blend in water. Add cream, sugar, butter, vanilla and salt. Stir over a medium heat until simmering. Reduce heat and simmer for 5 minutes longer, stirring occasionally. Set aside to cool.
To make orange cream: Using an electric mixer, beat cream until firm peaks form. Add orange zest. Beat on a low speed until just mixed through.
To decorate: Place pavlova on a serving plate. Top with orange cream. Arrange figs and cherries on top of cream. Drizzle with about a quarter of the salted caramel sauce. Scatter with hazelnuts. Serve the extra caramel sauce in a jug.
Note:
White Wings Pavlova Magic is sold in an egg shaped container. It can be found in the 'desserts' section of the supermarket