Find Out More
White Wings Hamburger Helper Seasoning Mix does not only make hamburgers taste better, but lets you make more of them. The meat will go 50% further*.
With no added MSG, it's a convenient and tasty way to enjoy not only hamburgers but rissoles and meatloaves too.
Don't let a small amount of meat delay your day with White Wings Hamburger Helper Seasoning Mix.
*Just add a cup of water and Hamburger Helper to 500g of lean minced steak or hamburger mince and you extend the meat to 750g.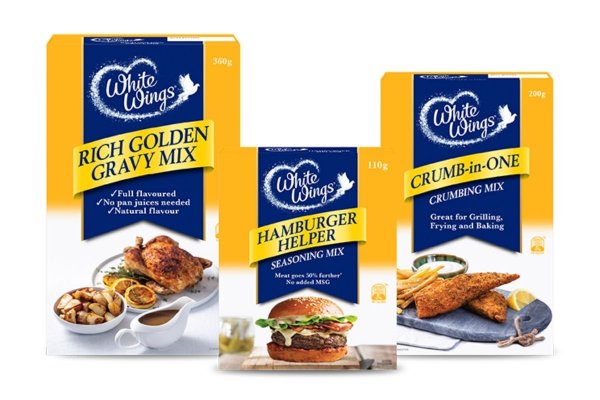 Ingredients: Breadcrumbs [Cereals and Cereal Flours (Wheat, Soy), Yeast, Vinegar, Iodised Salt, Vegetable Oil, Emulsifiers (471, 481, 472e), Preservative (282) Vitamins (Thiamin, Folic Acid)], Wheat Flour, Wheat Gluten, Salt, Sugar, Dried Onion, Spices, Herb Extract, Yeast Extract.

Serving size: 110g (1 Serving)
Servings per pack: 1

Allergens: Wheat|Soy
Allergens may be present: Hazelnuts|Milk|Almonds|Egg|Sesame Seeds

Storage Instruction: Best stored in cool, dry conditions at or below 25°C.

Country of origin: Made in Australia from local and imported ingredients.

Energy
Avg Qty Per Serving:
1550kJ
Protein
Avg Qty Per Serving:
25.1g
Carbohydrate
Avg Qty Per Serving:
59.5g
Sodium
Avg Qty Per Serving:
4155mg
All specified values are averages.